Restores corrupted
and unavailable partitions
Magic NTFS Recovery repairs broken partitions and rebuilds damaged and missing file systems in fully automated mode. Magic NTFS Recovery goes one step beyond what conventional data recovery products do. No matter how badly damaged your disk is and whether you have a file system on it or it's completely gone, Magic NTFS Recovery can carefully recover your files and reconstruct the partition system structures based on what's still there.
Restores any types of files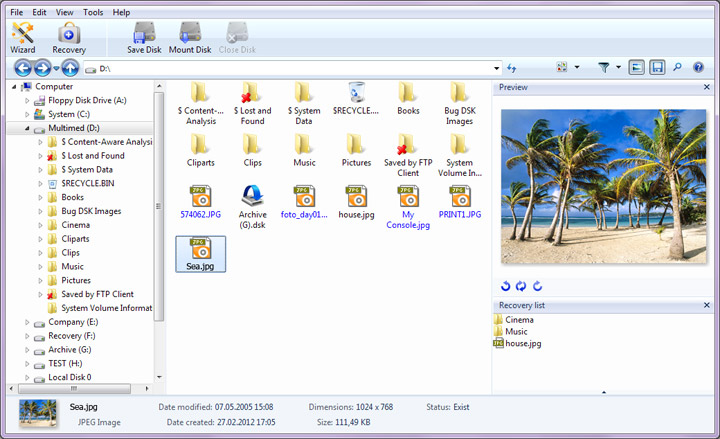 The product restores absolutely any types of files including documents, music, images, video, databases, compressed archives, executable files and so on… By employing proprietary data recovery algorithms, Magic NTFS Recovery is able to locate and recover files that the simpler undelete programs could not even see.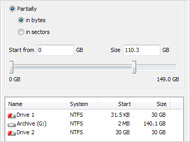 Restores files from deleted
and formatted drives
The software restores data from any type of carrier including existing, unavailable, corrupted, deleted, and formatted for a new file system and so on.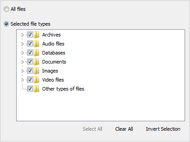 Restores files removed without
use of a Recycle Bin
Many programs at removal of a file from a disk do not use a Recycle Bin. Even considering, that these files are not present, you can find them and restore.
Recovers information
from all types of storage media
Magic NTFS Recovery is designed to support all kinds of storage media bearing the NTFS file system. Whether you have a huge hard drive or a small memory card filled with lost data, Magic NTFS Recovery can read the drive and restore information if the device is using NTFS.
We successfully tested the tool with a large selection of hard disks, SSD drives, USB flash drives and most common types of memory cards to ensure the best possible compatibility.
Search files based on content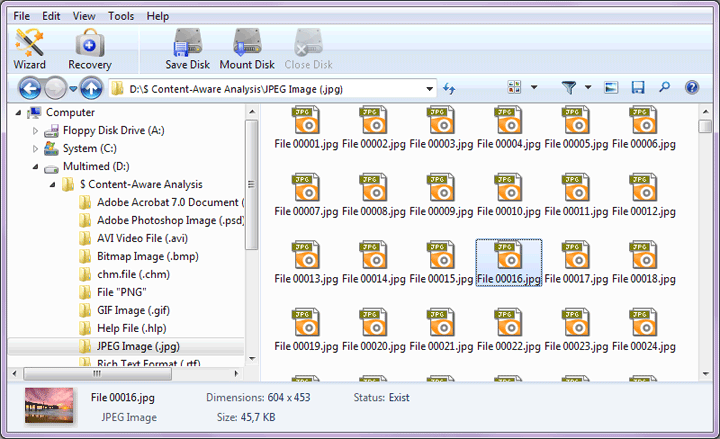 Content-aware analysis thoroughly analyzes the entire hard drive, collecting information about files, folders and system bits. Collected information is then used to recover files that would be otherwise unrecoverable, re-create damaged partition tables and rebuild file systems and disk system structures.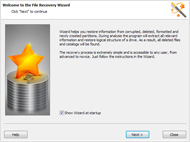 File restore wizard
Easy-to-use wizard will guide you through the whole process of restoration of files starting with selecting a drive to saving deleted files.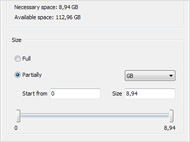 Working with drive images
You can create an image of a logical partition and work with a copy of data on a carrier to minimize the risk of loosing data due to inappropriate user actions.
Built-in HEX-editor
The software includes a HEX-editor to view file contents as well as data stored on logical partitions or physical drives. This powerful tool helps you locate files on a carrier and understand the structure of a physical drive. If you chose to view a logical drive you can display its bootable space, file table and so on.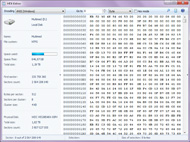 Data Export Wizard
When recovering information from a damaged, formatted or repartitioned disk, or when simply unerasing deleted files, it is essential to only access the original disk in read-only mode. This greatly improves chances of successful recovery, but requires the user to use a different disk, drive letter or storage media to hold the files being recovered. The data export wizard helps choose the right location to store your files by offering the choice of saving them on another disk, burning a CD/DVD or uploading to an FTP server.