Magic Partition Recovery
Accidentally formatted your hard drive? Deleted or modified its file system? Your system says that partition is corrupted and needs formatting?
Recover lost information, repair broken partitions and rebuild damaged file systems in fully automated mode. No matter how badly damaged your disk is and whether you have a file system on it or it's completely gone, Magic Partition Recovery can carefully recover your files and reconstruct the partition system structures.
Magic Browser Recovery
Recover information from a wide range of Web browsers. Access stored passwords, bookmarks, browsing history, and social activities.
Magic Browser Recovery will automatically identify Web browsers ever used on the computer and perform a comprehensive scan of your computer's file system and disk surface to recover passwords, bookmarks, browsing history and activities in social networks.
Magic Uneraser
Have you deleted important document MS Office, DVD video, mp3 file or photo? Restore any deleted file using Magic Uneraser!
Magic Uneraser offers fully guided, step-by-step approach to recovering deleted files. Supporting all versions of Windows including Windows 8 and Windows 10, Magic Uneraser allows you to unerase deleted files and recover information from all types of storage media.
Magic Photo Recovery
Recover all types of images quickly and reliably! Magic Photo Recovery recovers deleted photos from hard drives, memory cards or digital cameras.
Magic Photo Recovery makes digital photo recovery easy. The fully guided, step-by-step file recovery wizard allows unerasing deleted photos completely automatically. You can recover files from healthy and damaged hard disks and digital cameras, corrupted and formatted memory cards, etc.
Magic Office Recovery
Deleted an important document? Formatted a disk containing your working files? Windows won't let you open a disk?
Magic Office Recovery can undelete documents and spreadsheets, recovering files from damaged, corrupted, formatted and inaccessible devices. Built-in document integrity checks ensure 100% recoverability, while step-by-step wizards and thumbnail view make the recovery process easy and convenient.
Magic Data Recovery Pack
Recover deleted files, undelete music, unerase movies, documents and pictures with the most advanced file recovery software!
Magic Data Recovery Pack offers the most advanced file recovery capabilities in a single package. Recovering files from all types of storage media, Magic Data Recovery Pack can recover deleted information from all versions and revisions of NTFS, ReFS, FAT, exFAT, APFS, HFS+, Ext2/3/4, XFS, ReiserFS and UFS file systems.
Discover Web browsing histories in all major Web browsers! Magic Browser Recovery finds and recovers deleted browsing history records, and helps analysing user's Internet activities by providing access to existing and cleared browsing histories.
Free Download
Magic Browser Recovery Discovers Deleted Browsing History
Features and Benefits
Browsing history recovery
Recover cleared browsing history;
Access history records even if the browser database has been physically deleted;
Analyzes the entire hard drive, including the file system, allocated and unallocated data blocks;
Content-aware analysis discovers browser-related records even in corrupted and incomplete files.
Online activity analysis
Extract user's logins and passwords;
Discover social network activities, accounts and credentials;
Access user's search and browsing history – even in Incognito mode;
Perform comprehensive analysis of user's online activities in multiple Web browsers.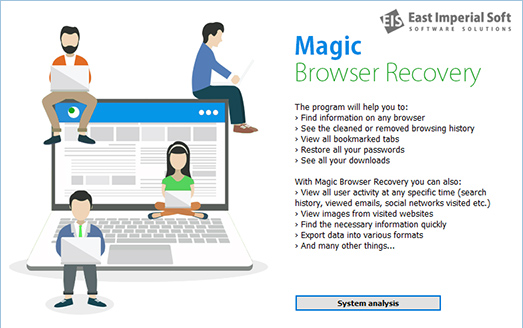 Access to Cleared Browser Histories
No matter if you cleared Web browser history, deleted a user account or uninstalled the Web browser, Magic Browser Recovery will help you recover the records. The tool will scan the entire hard drive via low-level access, discovering and displaying all supported Web browsers that you have ever used on your computer, and recovering their browsing histories – even if they are no longer available.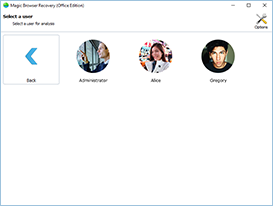 Recovers Deleted Files
More often than not, it's not just a browsing history database that is cleared – it's the whole bunch of files being physically deleted. If this is the case, no other tool can help but Magic Browser Recovery!
Magic Browser Recovery scans the entire hard drive including the file system, allocated and unallocated data blocks in order to discover deleted browsing history databases. Once a Web browser database is detected, Magic Browser Recovery automatically recovers (undeletes) the file, analyzes the database, extracts browsing history records and displays them so that they are easy to view.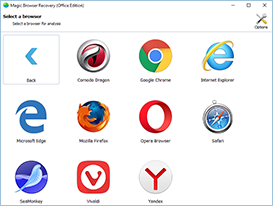 Recover Private and
Incognito Browser Sessions
Unlike similar tools that extract information from Web browsers based on existing files found in the file system, Magic Browser Recovery analyses information from individual data blocks on the hard drive. This allows our tool to find and recover deleted files, and extract valuable data from broken, incomplete and even partially overwritten browser databases.
As a result, you'll be able to see which Web sites were visited even if the user cleaned their browser history or used the Incognito mode.
More than Just History
Magic Browser Recovery can recover more than just Web browsing history. Bookmarks, saved forms, addresses, phone numbers, logins and passwords are automatically extracted and displayed. By accessing the user's logins and passwords, you might be able to review their communications in social networks, their activities in chats, forums and online games.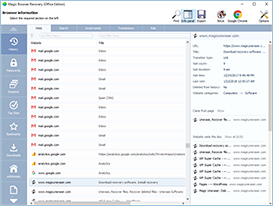 Online Activity Analysis
With Magic Browser Recovery, you can conveniently analyze the user's online activities. The tool reconstructs, categorizes and filters online activities in social networks, Web sites and search engines based on the user's browsing history records.
You'll be able to discover which sites and individual Web pages the user accessed during a given period of time, how much time they've spent, what Web searches they ran, and so on. You'll be able to discover the number of times a certain page has been opened, which resource they came from, and when was the first time the user opened a certain page or Web site.
Powerful filters are available in instantly discover Web sites that belong to certain categories. For example, firing up the "gambling" filter will discover all gambling-related Web pages opened by the user.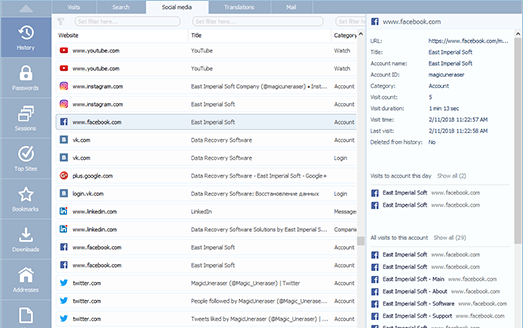 Track Social Network Activities
The social network tracker in Magic Browser Recovery helps recover information about the user's activities in a given network. Discover their login and password, find out the dates and times a social account has been accessed, and discover a lot more information in just a few clicks!
Limitations
Access to deleted files may be limited if you are using an SSD drive with automatic trim function. SSD drives actively purge files that have been deleted in order to maintain performance and provide the highest write speeds. As a result, using Magic Browser Recovery on an SSD-equipped computer may return less information compared to computers equipped with traditional magnetic hard drives.
This tool tocks! It found browsing history for all accounts I had on my computer. It was amazingly easy to use; a highly recommended tool for everyone who wants to restore their browsing history records. Justin Bryant
I tried several tools to recover deleted browser history. The other tools could only access a few records, Magic Browser Recovery discovered history going back far more than the 30-day retention period set in my browser settings. Carlos de Andres
Works great with my old desktop that still uses a normal hard drive. However, after I cleaned browser history on my laptop, the SSD immediately trimmed the files, so Magic Browser Recovery was only able to find a few random records. Tanja Huerten