Magic Partition Recovery
Accidentally formatted your hard drive? Deleted or modified its file system? Your system says that partition is corrupted and needs formatting?
Recover lost information, repair broken partitions and rebuild damaged file systems in fully automated mode. No matter how badly damaged your disk is and whether you have a file system on it or it's completely gone, Magic Partition Recovery can carefully recover your files and reconstruct the partition system structures.
Magic Browser Recovery
Recover information from a wide range of Web browsers. Access stored passwords, bookmarks, browsing history, and social activities.
Magic Browser Recovery will automatically identify Web browsers ever used on the computer and perform a comprehensive scan of your computer's file system and disk surface to recover passwords, bookmarks, browsing history and activities in social networks.
Magic Uneraser
Have you deleted important document MS Office, DVD video, mp3 file or photo? Restore any deleted file using Magic Uneraser!
Magic Uneraser offers fully guided, step-by-step approach to recovering deleted files. Supporting all versions of Windows including Windows 8 and Windows 10, Magic Uneraser allows you to unerase deleted files and recover information from all types of storage media.
Magic Photo Recovery
Recover all types of images quickly and reliably! Magic Photo Recovery recovers deleted photos from hard drives, memory cards or digital cameras.
Magic Photo Recovery makes digital photo recovery easy. The fully guided, step-by-step file recovery wizard allows unerasing deleted photos completely automatically. You can recover files from healthy and damaged hard disks and digital cameras, corrupted and formatted memory cards, etc.
Magic Office Recovery
Deleted an important document? Formatted a disk containing your working files? Windows won't let you open a disk?
Magic Office Recovery can undelete documents and spreadsheets, recovering files from damaged, corrupted, formatted and inaccessible devices. Built-in document integrity checks ensure 100% recoverability, while step-by-step wizards and thumbnail view make the recovery process easy and convenient.
Magic Data Recovery Pack
Recover deleted files, undelete music, unerase movies, documents and pictures with the most advanced file recovery software!
Magic Data Recovery Pack offers the most advanced file recovery capabilities in a single package. Recovering files from all types of storage media, Magic Data Recovery Pack can recover deleted information from all versions and revisions of NTFS, ReFS, FAT, exFAT, APFS, HFS+, Ext2/3/4, XFS, ReiserFS and UFS file systems.
Undelete files and recover information from damaged, formatted, corrupted and inaccessible disks and solid-state storage media formatted with any version of FAT or NTFS. If you have a disk with deleted partitions or a hard drive covered with bad sectors, Magic Partition Recovery is the tool to get!
Free Download
Magic Partition Recovery Rebuilds Broken, Deleted and Formatted Partitions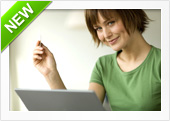 Recover Files
and Repair Partitions
Recover files and folders, repair broken partitions and rebuild corrupted and missing file systems in full auto mode. Featuring both quick and comprehensive analysis modes, Magic Partition Recovery carefully recovers your files and rebuilds the original file system based on information that's still available.
Features and Benefits
Magic Partition Recovery solves two major problems: it recovers lost and deleted files and rebuilds damaged disk system structures, effectively repairing corrupted disks to full operation.
File Recovery
Undeletes deleted files from healthy, formatted and damaged partitions;
Recovers all types of files from all types of storage media;
Quick scan mode displays list of deleted files in just seconds;
Comprehensive analysis mode locates files by their content, scans entire disk surface.
Disk, Partition and File System Recovery
Fixes errors in disk system structures;
Rebuilds badly damaged, overwritten and missing file systems based on information gathered during comprehensive analysis;
Unformats formatted disks;
Recovers broken partition tables and MBR records;
Effectively fixes corrupted disk, putting them back to service.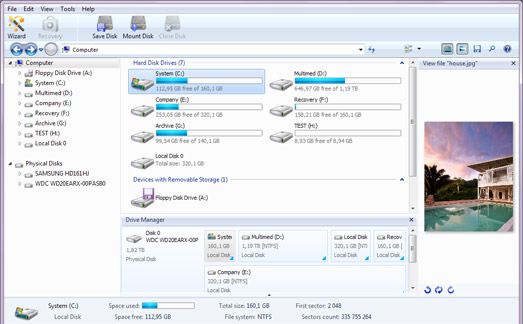 File and Partition Recovery – Do It Yourself with Ease
With all the advanced features offered by Magic Partition Recovery, it's still easily usable. You don't have to hold a degree in computer science or information recovery to be able to fix common issues and serious problems yourself. Magic Partition Recovery features Explorer-like user interface, allowing you to view and browse deleted files and folders the usual way you browse files on your computer. A set of easy, fully guided step-by-step wizards will assist you in repairing your disk, rebuilding partitions and fixing file systems.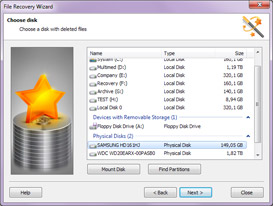 Repair Broken
and Inaccessible Disks
Corrupted and inaccessible disks can be successfully repaired by reconstructing their system structures. Magic Partition Recovery can perform a smart, content-aware analysis of your disk to recover disk system structures and restore the original files and folders.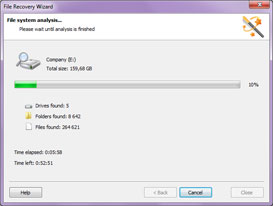 Rebuild File Systems
One of the major features offered by Magic Partition Recovery is the ability to re-build FAT and NTFS file systems that are badly damaged, overwritten or simply missing from the disk.
In order to re-create the file system, Magic Partition Recovery performs a comprehensive analysis of the disk, reading all data and analysing the content. If there's no file system left on the disk, a new one will be created based on what files were discovered.
A rebuilt disk is fully usable, and will contain all files and folders that were physically available on your disk.
Quick and Comprehensive Analysis
In simple cases, you can often get away with a quick scan. The quick scan returns a list of recoverable files in just seconds, offering a perfect chance to restore recently deleted files in a few moments.
Recover All Types of Files
Magic Partition Recovery works with all types of files including images, documents, text files, music, video, databases, compressed archives, executable files, and so on.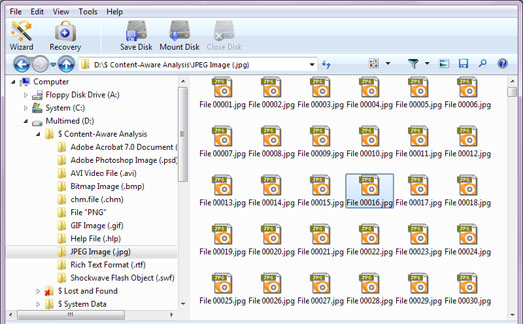 Content-Aware Data Recovery
In comprehensive scan mode, Magic Partition Recovery reads all sectors from the hard drive, matching information it reads against a built-in database. If a file of a known type is recognized, Magic Partition Recovery can analyse its header and deduct its exact location by discovering its beginning and length. In effect, these files can be recovered even if no file system or other disk system structures are available, allowing you to recover files from formatted, repartitioned, inaccessible and even partially overwritten disks.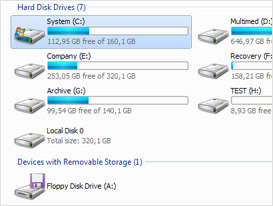 FAT and NTFS
Partition Recovery
You can recover disks and partitions formatted with all versions of FAT and NTFS systems, including NTFS streams. Magic Partition Recovery recognizes advanced disk and system structures created by the latest versions of Windows such as Vista, Windows 10 and 2008 Server.
All Types
of Storage Media
Magic Partition Recovery was tested on many types of storage media including magnetic and solid-state hard drives, USB flash drives, memory cards and removable drives. While it works equally well with all types of storage media, the very nature of the product suggests its use on larger disks packed with valuable information.
System Requirements
Magic Partition Recovery supports all versions of Windows from XP to Windows 10 and 2008 Server. Both 32-bit and 64-bit variations are supported. The administrative privileges are required to run the program under MS Windows XP / Vista / 7.
Free Download
The free version of Magic Partition Recovery performs all types of analysis and features instant pre-recovery preview, displaying the content of recoverable files in fully visual, WYSIWYG mode.
Download Magic Partition Recovery free of charge!
Restores corrupted and unavailable partitions
Thanks to the use of content-aware analysis, Magic recovery tools can recover information from corrupted and inaccessible partitions, repartitioned hard drives and formatted volumes. Magic Partition Recovery will perform a thorough scan of the entire physical drive in order to locate unavailable or deleted partitions, and then analyze the entire volume looking for recoverable files and folders. Magic Partition Recovery will attempt to re-create the entire file and folder system complete with multiple-level folders and long file names, effectively restoring the content of the entire partition on a different disk or another storage media. After your data is completely recovered, you may attempt to recover the original broken partition by repairing the damaged system structures with scandisk (a Windows tool).
Using Magic Partition Recovery on damaged disks is completely safe, as all access is performed strictly in read-only mode. Because of that, Magic Partition Recovery will not mess your disk system structures or the file system.
Recovers all types of files from all types of storage media
Magic Partition Recovery can recover all types of files from all kinds of storage devices. Deleted files can be undeleted in a matter of moments with a quick file system scan. Files deleted directly or removed from the Recycle Bin can be restored in a matter of minutes regardless of their extension.
Thanks to the company's content-aware analysis technology, hundreds of recognizable file types can be recovered even if the drive is formatted, repartitioned or unreadable. Even if the drive no longer appears as a drive letter, Magic Partition Recovery can still analyze a physical storage device looking for missing partitions. Magic Partition Recovery has been tested with a wide range of devices based on different storage technologies such as magnetic hard drives and flash-based solid-state drives. Magic Partition Recovery can be used to recover files from hard disks and SSD drives, USB flash drives and most types of memory cards including full-size, mini and micro versions of SD/SDHC/SDHC cards, Compact Flash, Memory Stick, as well as the traditionally mentioned but obsolete formats such as MMC and xD.
Instant analysis
The tool offers an innovative "Fast scan" feature that can searches for deleted files on healthy volumes in a matter of seconds. Unlike competing data recovery tools that can spend several minutes reading the file system, Magic Partition Recovery locates deleted file records in real-time, offering faster than usual performance for recently deleted files. As opposed to competing tools performing a bunch of small-read operations, fast scan performs a single consecutive read of the area on the disk occupied by the file system. The tool analyzes the data in the computer's internal memory, resulting in a much higher performance compared to reading each single record about individual files.
Please note that this feature is only recommended for existing, healthy partitions. If you attempt to perform a fast scan on a corrupted volume, or use the feature on a disk containing any number of deleted partitions, you can miss files that would otherwise be recoverable. For damaged, corrupted, inaccessible, formatted and repartitioned disks you can use the slower content-aware analysis.
Features fully guided, step-by-step file recovery wizard
Magic data recovery tools are designed to be easily usable. Years of refinement led to the development of a fully guided, step by step wizard to guide users through the entire recovery process. No matter how complex the internal mechanics are under the hood, the product's step-by-step wizard will only ask a few simple questions, such as which disk contains the files to recover, where to save the recoverable files to, and whether you'll be performing fast or comprehensive analysis (or both).
After answering a few simple questions and waiting till the disk scan is complete, you'll be presented with an Explorer-like window listing all recoverable files. You'll be able to navigate around the disk, pick multiple files or select entire folders to recover. The built-in pre-recovery preview will allow viewing recoverable files in 'live' mode, allowing you to pick the latest, best preserved versions of documents to recover. With this easy, step-by-step approach our data recovery tools can be easily learnt and used by anyone and their dog.
Working with drive images
To make the recovery from corrupted media even safer, Magic Partition Recovery provides the ability to make a virtual snapshot of the disk being recovered. The snapshot is a complete, bit-precise image of the entire drive saved into a single file on another (healthy) drive.
By creating a virtual drive image, Magic Partition Recovery reduces the number of disk access operations to absolute minimum by reading the entire content of the disk in a single continuous read as opposed to multiple small, random access operations. All subsequent operations such as scanning, previewing and recovering files are then performed with that virtual image instead of the original drive.
This greatly increases the chance of successful recovery for badly damaged and heavily worn disks, keeping the number of disk access operations as low as possible. In addition, the snapshot can serve as a bit-precise backup of the entire disk or partition.
This tool is made for the hardest job. Formatted hard disks, trashed partitions and broken hard disks are the perfect subject for this little tool. It's amazingly easy to use for what it does.
Highly recommended! Maria Perez
I tried quite a few similar programs, including a few Linux tools.
Now I know it for a fact that this one is well worth the money. It was able to find all the files and display the correct file names in just a few minutes. Michael Keith
Works great with video cameras. I formatted a built-in HDD in my camera. Hours of video footage were gone. Tried other tools with no success; they were unable to deal with .TOD files.
This tool recovered all the videos. Peter Sharp