4 Best Disk Drill Alternatives for Windows and Mac
Published: February 10, 2022
Updated: August 4, 2022
Have you ever found yourself desperately trying to restore accidentally deleted data? In this case, you will need a special piece of software to retrieve corrupted files. These programs are also known as wizards. One of the most popular is Disk Drill Data Recovery. However, today we will examine Disk Drill Data Recovery alternatives.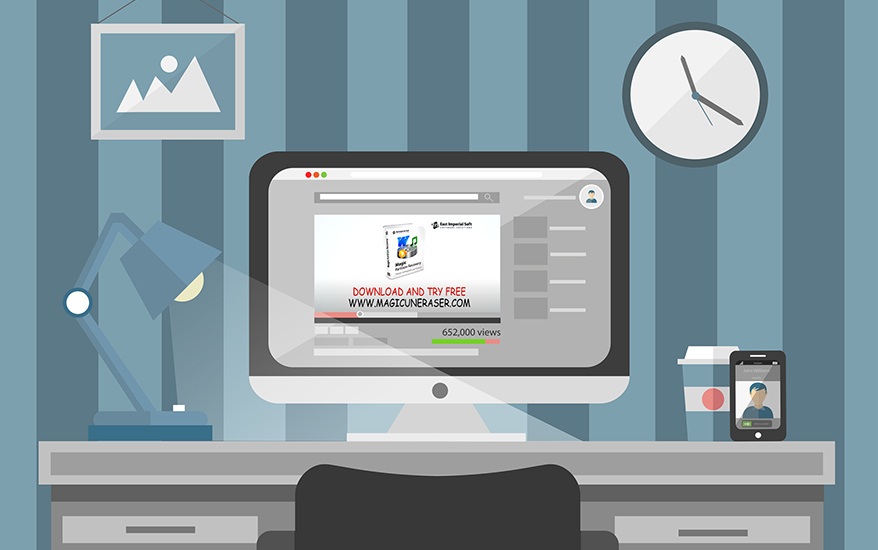 Currently, there is a wide range of both subscription-based and free tools powerful enough to match your needs. Innovative software solutions possess many features that make them superior to their famous competitors. In this post, we put together some of the best programs like Disk Drill for your consideration.
Why Disk Drill Data Recovery Software is so Popular
Disk Drill has been regarded as an advanced tool for deleted data backup for a long time. Users who have lost their important data, such as text files and photos, can restore them without much effort. Let's review the features of Disk Drill that have made this digital product that popular.
Convenient user interface.
It is difficult to deny that after numerous updates, the interface of this data restoring tool has been significantly improved and has become more user-friendly.
The Windows-adapted version provides detailed and easily accessible information about the status of a computer's drives. A user can choose between a tree or detailed visualization of files to be recovered. Scanning can be stopped and results easily saved.
Disk Drill allows users to assess the recovery probability while previewing detected files. However, this function serves a decorative role rather than being actually useful. Any device owner expects software to at least attempt to retrieve all of the files regardless of chances.
Still, the utility's control panel is designed better than the UIs of nearly half of Disk Drill alternatives for data recovery.
Strong recovery capabilities.
This is the kicker of Disk Drill. The software's scanning algorithms are not always capable of finding every distinct file lost. However, this software can effectively recover most data types, even from formatted disks or external hard drives.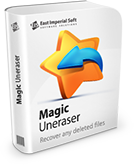 Magic Uneraser
Supporting all versions of Windows, Magic Uneraser allows you to recover information from all types of storage media.
Cons of Disk Drill
If Disk Drill is as good as we described, why do we suggest other data recovery software? Some time ago, it was one of the best solutions for data recovery. While it remains a formidable competitor, its cons significantly outweigh its pros now.
It does not cover all the existing types and formats of data.
Disk Drill can repair 301 types of lost files. To put it in perspective, it is below the average of similar digital products.
Alternatively, it may not work consistently with some types of data. As an example, other software solutions offer solid RAID recovery, unlike Disk Drill. Partition recovery is claimed to be present, but it is not nearly as effective as those present even in Disk Drill's free alternatives.
The free version has significantly reduced functionality.
Let's jump a bit ahead and talk about the free version. First, there is a 500 MB file size limit for recovery in the basic version.
Disk Drill also forces users to wait for hours until data to be restored is shown. Finally, a user can't officially restore some types of files using the free version. The Disk Drill policy seems to intentionally force device owners to purchase the premium.
There is no portable Disk Drill version for Mac.
Although portable Disk Drill for Windows often malfunctions and can offer only a strictly limited number of options and features, such a mode does not even exist for macOS.
There is no Disk Drill mobile version.
Yes, you can still connect your iOS or Android-based device to a working laptop or computer and conduct scanning and data restoring. However, if you do not have any device but a phone, you cannot download a mobile version of Disk Drill and get help quickly.
Customer service support is hard to contact.
Some users complain about significant delays between sending an inquiry and receiving an answer. By the way, if an app has numerous inquiries from customers, it is usually an indicator of software malfunctioning.
The scan option is ineffective.
Above, we have described the Disk Drill scan as a convenient technology. However, it mostly concerns the user-friendliness of scanning rather than its effectiveness.
Unfortunately, you are likely to not detect every previously deleted file. The simple truth is, even free software solutions sometimes find and restore data better.
Why Disk Drill is Not Free
You may have heard many times about the free version of Disk Drill. It serves the purpose of familiarizing users with the potential of the software overall. However, Disk Drill is intended as a premium-based app.
You can familiarize yourself with the current Disk Drill pricing plans in the infographics below. These are the prices for American users and are region-adjusted.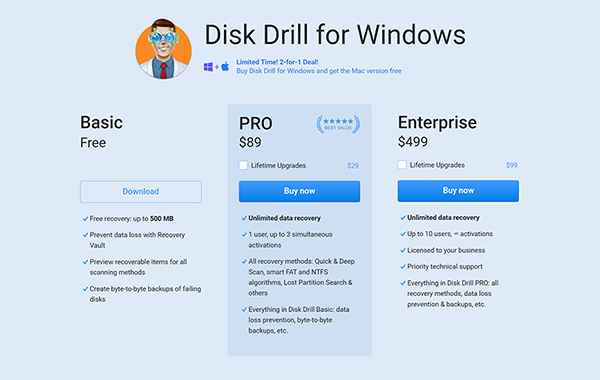 As shown, a user is subject to a one-time purchase for the pro version alone. This pricing plan allows activating the program on up to 3 devices simultaneously. The Pro Disk Drill version offers most recovery capabilities and basic technical support.
Additional $29 are charged for lifetime upgrades, which is a rather questionable decision. Such offers are usually expected to be a part of the pro plan, not a separate purchase.
The enterprise pricing plan is sufficient for business owners who need their data protected. The only visible difference between pro and enterprise plans is the number of users enabled to have Disk Drill activated and priority technical support.
In case you have to deal with deleted files only occasionally, it is unlikely that Disk Drill is a cost-effective choice.
In essence, Disk Drill is still a viable option for data recovery, but there are numerous excellent Disk Drill alternatives for macOS, Windows, and mobile platforms.
What are the Best Alternatives to Disk Drill?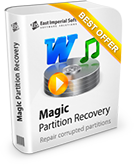 Magic Partition Recovery
No matter how badly damaged your disk, the program can recover all your files and reconstruct the damaged partition.
Magic Partition Recovery
Magic Partition Recovery is one of the greatest Disk Drill and EaseUS alternatives that offers a wide range of options for data recovery. It is also a solid competitor for other software solutions from this list.
In general, East Imperial Soft company, which owns Magic Partition Recovery, is known for its wide range of highly specialized products. Such diversification of digital tools for data recovery makes it easier to choose the one that suits your particular need better than others. However, for users' convenience, the company just ought to have an all-in-one solution, which is Magic Partition Recovery.
Magic Partition Recovery software is exactly what you would like to be installed on your device if important data was accidentally deleted.
As a Disk Drill alternative for Windows, Linux, macOS, and even Unix, Magic Partition Recovery exploits the standard step-by-step recovery process.
Magic Partition Recovery tool restores data from any storage media type. As such, you can recover files from not only healthy but damaged, corrupted, and even repartitioned disks, external USB disks, memory cards, crashed hard drives, etc.
When it comes to types of files that a wizard like Magic Partition Recovery can recover, their range is broad and not limited to documents and compressed archives. However, for some complicated situations, you may need their other solutions, such as RAID recovery, or browser recovery tools, or any other that would suit your case better than the versatile Magic Partition Recovery.
As for tech specifications, Magic Partition Recovery supports nearly any file system belonging to Windows (NTFS, FAT, FAT32, exFAT, etc.), macOS (APFS, HFS+), Linux (Ext2/3/4, XFS, Btrfs, ReiserFS, ZFS), and UNIX (UFS 1/2). As a bonus, this software can be run on any Intel-compatible platform and require only 1+ GB of RAM and either x86 or x64 CPU architecture.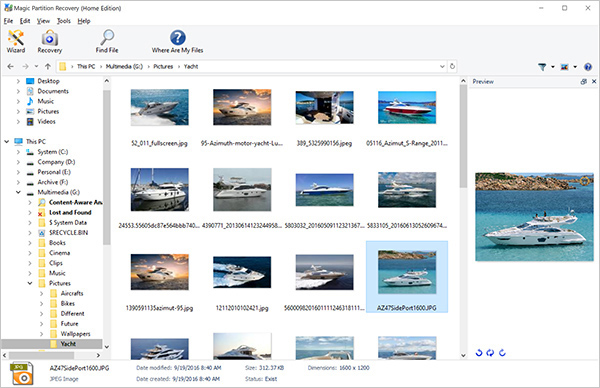 Here is the list of major pros of Magic Partition Recovery:
Versatility.
Until you require something highly specific, Magic Partition Recovery handles all the data types, even some that are not claimed to be 100% supported, on any platform.
Effectiveness.
There are no abstract "chances" for a file to be restored. You can retrieve any type of data detected, except for most complicated cases, any other software would not guarantee to resolve.
Portable version.
The portable version significantly simplifies data recovery when users cannot download and install a standard version on their computer or laptop.
User-friendly interface.
The software has a great control panel that is hard to get lost in. it is simple, contains all the functions you may ever need, and does not distract.
Functional Demo.
In contrast to Disk Drill, Magic Partition Recovery offers a completely functioning trial version. You may not only scan files to be restored but actually preview them without paying upfront.
Great customer support.
Unlike competitors that restrict opportunities to contact support, the Magic Partition Recovery support team can be reached at any matter, regardless of whether you have a free or premium software edition or just intend to try or purchase one.
Nobody is perfect. Here are the cons of using Magic Partition Recovery:
Not free.
The basic trial version is already superior to Disk Drill, as it enables some recovery procedures without strict limitations. Still, if you want to employ the program fully, you need to purchase a home, office, or commercial edition.
Luckily, the price starts from $39.95. As a bonus, even for the home edition you can gets priority support, download warranty, and CD backup sent to you via regular mail. It is just in case you need physical storage of the recovery app purchased to use without access to the Internet.
Occasionally need to be complemented with other tools.
On rare occasions, you may need a more specialized data recovery tool offered by East Imperial Soft. Office Recovery, Magic Photo Recovery, or something else may save those files that Magic Partition Recovery failed to.
R-Studio
R-Studio is another example of how a Disk Drill competitor may become a viable option for many users. This software for data recovery presents itself as a comprehensive solution for restoring a wide range of files on all the existing platforms.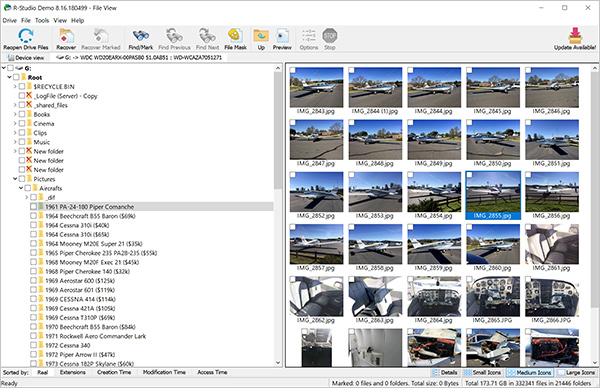 As well as Magic Partition Recovery, R-Studio can recover files from recycle bins, damaged hard disks, deleted partitions, formatted disks, and storage damaged by virus attacks.
Besides the basic version, the company offers the R-Studio Technician version, with a few features such as audit log creation and post-action options for unattended operations. Such unique opportunities may come in handy for IT departments of large corporations.
Concerning tech specifications, R-Studio supports Windows, macOS, and Linux platforms. Basically, you can refer to the list of file systems supported by Magic Partition Recovery to learn about what types of data R-Studio can repair. The only difference is that Btrfs for Linux and Hikvision FS for Windows are not claimed to be supported. Additionally, in top editions, R-Studio offers such a function as recovery over the network.
R-Studio data recovery tool has benefits, the major of which detailed below:
Great functionality.
In terms of capabilities, R-Studio offers a wide range of options, useful for proficient users mostly.
Speed and effectiveness.
Even the basic version of R-Studio scans and restores files fast.
Functional demo.
As well as Magic Partition Recovery, R-Studio offers to run some basic repair procedures for free, as opposed to Disk Drill.
Here is the list of notable cons of R-Studio:
High prices.
There are many free alternatives to Disk Drill. Unfortunately, R-Studio is not one, despite offering more affordable Basic (instead of Pro) and corporate (instead of Enterprise) versions. Many users also claim that the R-Studio Technical version is significantly overpriced.
There is no portable version.
Unfortunately, an official portable version of R-Studio is not available. You have to install the program before using it.
There is no R-Studio mobile version.
Similar to Disk Drill, R-Studio does not offer owners of mobile devices to purchase a ported version of the program. Users are still forced to connect their phones to working computers with installed software to restore files.
Confusing interface.
If you have never worked with data recovery tools before, it is unlikely that you will understand how to work with R-Studio quickly. The control panel does not have decorative features in contrast to Disk Drill, but a range of rather unnecessary functions may confuse a device owner. Indeed, even a basic version of this tool is not for a novice user but rather for an IT specialist.
Require purchasing distinct tools.
If you are unsure of the root cause of the problem you face, it is unlikely that you will choose the appropriate R-Studio tool. The company does not offer an option versatile enough to cover most necessities. Their solutions are intended for particular purposes.
TestDisk
TestDisk is the only free, open-source data recovery program on this list. It was written by a single developer and currently belongs to the CGSecurity team. A user is not obligated to pay for downloading and using the latest versions of TestDisk, but donations are greatly welcomed.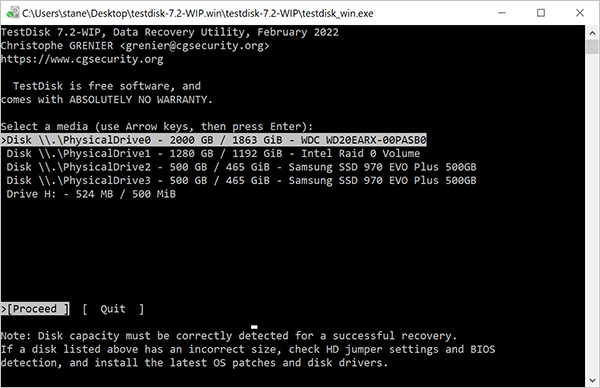 TestDisk is intended to compete with other software when it comes to recovering lost partitions and making non-booting disks function again. However, it is still a viable option for both experts and novice users to recover nearly any deleted or damaged data types across most platforms.
Regarding tech specifications, TestDisk can be run on DOS, Windows, Linux, FreeBSD, NetBSD, OpenBSD, SunOS, and macOS. TestDisk supports the following file systems: FAT/FAT32, exFAT, NTFS and ext2.
Here is the list of major pros of TestDisk:
The program is completely free.
You can download and use the software's full functionality free of charge.
Effective partition recovery.
TestDisk effectively fulfills the primary functions and can compete with any of the alternatives.
Versatility.
The primary software – TestDisk, does not require a wide range of supportive utilities to operate. You can run the program under the broadest range of operating systems.
Availability of portable version.
Once again, Disk Drill free alternatives often have such a useful feature as portable editions of the programs. The basic version of TestDisk is already portable and can be used without installation.
The list of cons that interfere with the satisfying use of TestDisk is as follows:
Confusing interface.
Most users will have a difficult time trying to recover files with the help of TestDisk. Basically, the program looks like a console in which certain functions can be chosen. While IT specialists may find it convenient, such a control panel is unsuitable for most novice users.
Lack of complementary tools.
TestDisk is a complete program with only one complementary utility tool – PhotoRec. It is enough for images and most documents repairing, disks rebooting, and partitions restoring. However, the software is unlikely to be sufficient for other purposes.
Absence of support.
As this tool is not commercial, there is no specialized customer support. But, a device owner can always consult other users via the forum or ask developers a question directly.
Recoverit
Recoverit is the last of the programs like Disk Drill on this list. It is another advanced tool for data recovery intended for the public rather than technicians.
Concerning tech specifications, Recoverit supports Windows and macOS only and the typical range of data systems (using Magic Partition Recovery as a benchmark). It claims that over 1,000 file formats are supported.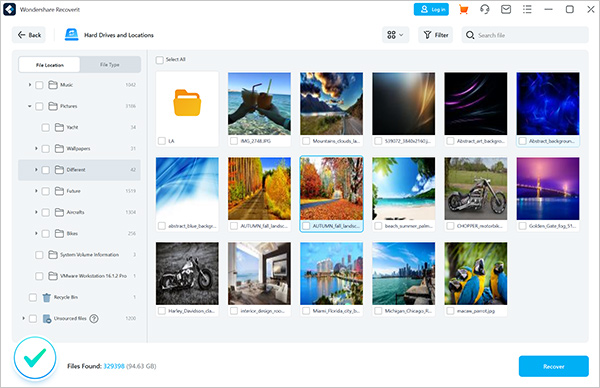 The advantages of using Recoverit are as follows:
User-friendly interface.
Because Recoverit is intended for novice users, any device owner can easily run most recovery procedures using a convenient control panel.
Versatility.
Recoverit Wondershare does not offer many complementary tools, and all the complete functionality is available using Recoverit only.
The cons of Recoverit aren't numerous but somewhat annoying:
The portable version is not available.
Unfortunately, portable Recoverit is not officially available. You need the basic installer and access to the Internet to run the program for the first time.
Confusing pricing.
It seems like Recoverit Wondershare intentionally limits the capabilities of its software and the number of PCs supported in each of the versions to make users consider the most expensive editions.
Try the free version of Magic Partition Recovery, one of the strongest competitors of Disk Drill. Also, learn more about pricing plans and the benefits of the premium versions of this superior tool for data recovery.
Best Disk Drill Alternatives Characteristics Summary
Characteristics
Disk Drill
Magic Partition Recovery
R-studio
TestDisk
Recoverit
Price
$89.00 for the Pro version.
$499.00 for the Enterprise version.
$99.95 for Home Edition.
$239.95 for Office Edition.
$399.95 for Commercial Edition.
$79.99 for the basic version.
$179.99 for the Corporate version.
$899.00 for the Technician License.
Free and open-source program.
$69.99/year or $119.99 for a perpetual 1-PC Essential license.
$99.99/year or $159.99 for a perpetual 1-PC license.
$149.95 to $929.95 for the Business version with up to 20 PCs supported.
Supported file systems
NTFS, FAT, FAT32, exFAT, APFS, HFS+, Ext3/4
NTFS, ReFS, FAT, FAT32, exFAT, APFS, HFS+, Ext2/3/4, XFS, Btrfs, ReiserFS, ZFS, UFS 1/2, HikvisionFS
NTFS, ReFS, FAT, FAT32, exFAT, APFS, HFS+, Ext2/3/4, UFS 1/2
NTFS, FAT, exFAT, ext2
NTFS, ReFS, FAT, FAT32, exFAT, APFS, HFS+, Ext2/3/4
Speed
High speed in the purchased version. Speed limitations in the basic version.
High speed.
High speed.
High speed.
High speed.
Size
28.9 MB – basic installer.
8.5 MB – installer for Windows XP & Vista only.
132 MB – extended installer for Windows 7+ only.

41.2 MB – basic installer.
53.0 MB – portable version.
59.36 MB – basic installer.
26.1 MB – basic (portable) version.
1.2 MB – basic installer, which downloads necessary files automatically after the first run.
Customer support
The trial version is not supported.
The Pro version is supported.
Enterprise version has priority support.
Superior support for all the editions with the opportunity to contact a specific department with a particular question.
Basic support for the free version.
Superior support for all the purchased editions.
There is no specialized customer support.
Basic support for the free version.
Superior support for all the purchased editions.
Most users and business owners can be recommended to pay close attention to the most simplified and versatile data recovery tools with a convenient control panel. Among programs like Disk Drill from this list, Magic Partition Recovery falls under this definition the best. Technical professionals may prefer R-Studio or TestDisk.
Then, the convenience of pricing should be taken into consideration. While TestDisk may seem the most affordable (free) solution to data issues, Magic Partition Recovery offers the greatest price options for novice users. Technical and business specialists that do not pay for software themselves may choose any option they like.
If you are unsure about purchasing Disk Drill and doubt alternatives, East Imperial Soft has you covered.
Consider Magic Partition Recovery as an Alternative to Disk Drill
Magic Partition Recovery is a comprehensive and advanced solution to nearly every problem you may have with your device's data storage and digital files. This software is compatible with all the common platforms and supports almost all the existing data systems and file types.
Magic Partition Recovery has a fully functioning trial edition, which you can employ to conduct basic recovery procedures without strict limitations before purchasing a Home, Office, or Commercial edition.
If you need to resolve a particular issue, we may offer you Magic tools like Photo Recovery, RAID Recovery, Browser Recovery, Office Recovery, and others.
Magic RAID Recovery
The ultimate solution for recovering data from healthy and corrupted single-disk and multiple-disk storage solutions.
You can learn more about Magic Partition Recovery software solutions from our official webpage.
As our valued client, you receive the following benefits from using Magic Recovery tools:
24/7 customer support processes your requests immediately and ensures the best experience using our software.
All Magic tools are completely safe for your devices, and we guarantee not to deteriorate their functioning.
We never share your personal information with third parties and strictly follow other standards of East Imperial Soft Privacy Policy.
A 30-day refund policy covers all sales of our digital products, so you can always get your money back if the software fails to perform as advertised.
If you need superior partition recovery software or a great tool for data restoring that is fully compatible with your platform, you should consider Magic products from East Imperial Soft.
FAQ
Currently, Disk Drill is neither the most convenient nor the most affordable or effective tool for data recovery. Its competitors offer great functionalities and must be considered as a replacement of Disk Drill.

There are not many completely free utilities, but some companies offer functional trial versions. You can still conduct some basic recovery procedures using them, but you should consider purchasing a program that suits you the most to be confident in your software.

Whether you are a first-time data recovery tool user or a technical expert, you may prefer either tools with attractive and simplified interfaces or highly functional control panels.