NTFS vs exFAT vs FAT32: What is the Difference and How to Choose the Right Format
Published: June 1, 2017
Updated: March 20, 2022
A file system is a way of organizing data on various media. It determines where and how files on the media will be recorded. Also, the file system gives the operating system access to these files. How can you choose the right type of file system when it comes to formatting a USB drive? How to change the format of your USB drive from FAT to NTFS to exFAT or FAT32? What is the difference between NTFS and exFAT? In this article, we want to answer these frequently asked questions.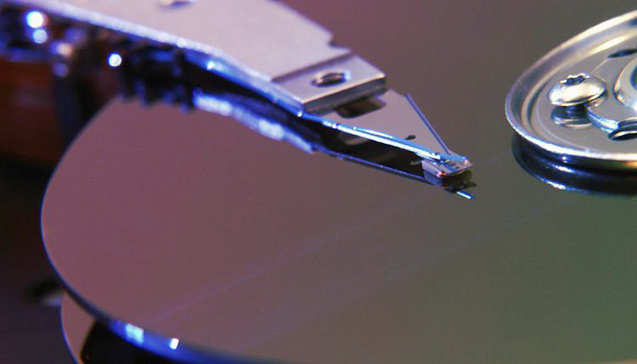 There are the following types of file systems: NTFS, FAT, FAT32, and exFAT. You must choose the one that suits you best. Let's look at the advantages of each of these file systems. We hope that this information will help you make the right choice.
Advantages of the NTFS File System
NTFS is currently a default file system of the Windows 10 OS. Introduced with the release of Windows XP, this file system was built with several technical improvements over the preceding FAT file system versions, namely changes in file permissions, improved file security, and various file system journaling changes. The benefits of the NTFS file system include:
Increased reliability and security when encrypting files;
The ability to split the flash drive into partitions, and create large partition types of over 32 GB on the USB flash drive;
Small data clusters;
Better management of disk space;
Compression of data to save disk space;
Formatting the USB flash drive in NTFS will be easier than in the case of FAT.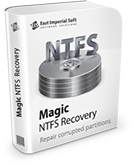 Magic NTFS Recovery
Offers a quick, easy way to recover data from badly damaged, corrupted and inaccessible disks and partitions.
Advantages of the FAT/FAT32 File System
FAT, or File Allocation Table, is one of the oldest file systems, developed in 1977. With the increase in drive capacity, the variants of the system were developed, from FAT12 to FAT16 and FAT32. While it is no longer a standard in Windows systems, it is still widely used for external drives, like USB flash drives and solid-state memory cards. The advantages of the system include:
The files take up less space on the USB drive than in NTFS. Therefore, you are given more free space to store other data;
Fewer disk write/overwrite operations. Therefore, faster and more efficient use of available memory;
Compatibility with almost all operating systems;
Quick disk scanning.
Advantages of the exFAT File System
ExFAT is one of the newest file systems developed specifically for external devices. The system was built as a lightweight alternative to the NTFS file system. While NTFS is still compatible with both internal and external drives, there are certain advantages to using exFAT, namely:
Ability to create partitions larger than 32 GB;
Better management of disk space;
Ability to read/write files larger than 4 GB.
If you are using a USB drive larger than 32 GB, you should select NTFS or exFAT. In addition, you must select the format that suits your work. For example, if you use USB for multiple operating systems, it's better to use FAT. NTFS is a more modern system. It is much more reliable than FAT. In addition, NTFS is more stable in operation.
Unfortunately, Windows sometimes cannot format a USB flash drive correctly. Now there is a dilemma: how can you restore a hard disk after deleting partitions or formatting it? Restoring deleted files from damaged disks is also possible when formatting FAT and NTFS file systems.
There is a universal tool for recovering deleted information from damaged, formatted, deleted, and inaccessible disks with any version of FAT or NTFS file systems. If your hard drive or flash drive contains deleted partitions or bad sectors, Magic Partition Recovery will help you recover any information from there. From the official site, you can also download programs that work with one particular file system.
NTFS vs. FAT32 vs. exFAT Comparison
FAT32
exFAT
NTFS
History
Introduced with Windows 95 in 1996
Introduced with Windows Embedded CE 6.0 in 2006
Introduced with Windows NT in 1993
Platforms
Compatible with all versions of Windows, Linux, macOS
Compatible with all versions of Windows, macOS X, and needs additional software to work with on Linux
Compatible with all versions of Windows and certain versions of Linux, read-only with macOS and other Linux versions
Maximum file size
4 Gb
No limits
No limits
Maximum partition size
8 Tb
No limits
No limits
Special features
Fast access and easy to use
Designed specifically for external drives
Provides the use of file permissions, encryption, shadow backup copies, etc.
Looking at the comparison of NTFS vs. FAT32 vs. exFAT, you can see that NTFS is the most modern system with more features essential for a built-in drive. However, other file systems have their advantages as well. Let's take a closer look at the differences between the systems.
What is the Difference Between NTFS and FAT32?
The answer to the question of what is the difference between FAT32 and NTFS is rather long. NTFS has a lot of improvements over the older FAT32. The main difference between NTFS and FAT32 is that the former has no limits in the file and partition size. Fortunately, there is a way to learn how to convert FAT32 to NTFS without losing data to avoid this limitation. However, besides these improvements, NTFS has certain disadvantages that make it difficult to answer the question of which is better – NTFS or FAT32? The main one worth mentioning is that NTFS is not as widely accepted – it is not compatible with macOS and Linux (read-only), and even most gaming consoles do not support it.
What is the Difference Between NTFS and exFAT?
ExFAT is a file system from the File Allocation Table family, which means that it is more similar to FAT 32 than NTFS. However, there are some similarities in the exFAT vs. NTFS comparison, like file and cluster pre-allocation function.
The main advantage of exFAT over NTFS is the answer to the question of is exFAT faster than NTFS — the efficiency of the "write" operation is increased in exFAT, which is achieved with the reduction of the file system overhead. However, exFAT doesn't have a lot of helpful characteristics of NTFS, like file security and improved disk space management. So, the question of which is better – NTFS or exFAT is not clear-cut either.
What is the Difference Between exFAT and FAT32?
While these systems have a similar origin, you will find several essential differences in the comparison of exFAT vs. FAT32. The main distinctions come from the fact that exFAT was made specifically with flash drive format types in mind. While FAT32 is suitable as a USB format due to being lightweight, exFAT is flash-friendlier due to metadata integrity with checksums, improved metadata structures, and the native use of extended file names. ExFAT also gets rid of file and partition size limitations of FAT32.
How to Choose Between FAT32, exFAT vs. NTFS?
As there is no definitive answer to the question of which system is better, let's review the most common use cases, in which each of them shines through the most:
Talking about built-in drives, NTFS is the better choice among the file systems. However, if the device operates on an OS other than Windows, FAT32 is easier to implement and operate;
For the drives installed on the embedded systems, FAT32 is the best choice, as it is lightweight, easy to operate, and its file size limitations usually don't matter in this situation;
For external drives, like USB flash memory or solid-state external drives, the choice of the file system should depend on the device's capacity. FAT32 suits for drives up to 32 Gb, but if the limit is any bigger – exFAT is a much better choice.
Magic NTFS Recovery: Restore NTFS partitions
Magic NTFS Recovery offers a fast and easy way to securely recover information from badly damaged, corrupted, and inaccessible disks. The program can perform any work to restore data: from the simple recovery of information to the restoration of broken structures of system disks. Using the "deep analysis" algorithm, supporting the "quick" and "full scan" modes, Magic NTFS Recovery remains the winner in the data recovery market.
At only half the price, the program supports all the features of the Magic Partition Recovery product, except for the possibility of FAT-media recovery. All modern Windows operating systems (XP, Vista, Windows 10, 8, 7) format disks into NTFS.
Consider Magic Recovery Software to Restore Any Type of Data
Using the Magic Recovery Software, you can restore information after many unfortunate events, from accidental removal to file deletion due to a cyberattack. Use the NTFS recovery tool or FAT recovery tool to restore any type of data to any kind of file system easily and fast.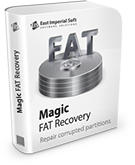 Magic FAT Recovery
Optimized for recovering data from damaged FAT disks, this tool is perfect for flash and memory card recovery.
FAQ
ExFAT is faster than NTFS in terms of the file transfer. The reason behind this is the smaller file system overhead.

Firstly, FAT32 has a file and partition size limit that is removed in NTFS. Secondly, NTFS is equipped with numerous helpful features, like file encryption, shadow file backup copying, and more.

While NTFS is better for most built-in drives, it is incorrect to say that it is inherently better than FAT32. FAT32 is more lightweight, which makes it a better system for smaller drives and embedded systems.

While exFAT was developed for external flash drives, FAT32 is still a default choice, accepted throughout the industry. However, if the capacity of the drive is bigger than 32 GB or you need to store files bigger than 4 GB, FAT32 is not an acceptable choice, and exFAT will suit you better.