How to Restore the File System of a Hard Drive
Published: November 25, 2017
Updated: March 20, 2022
East Imperial Soft works hard to ensure permanent development and improve its software products' features and website content. In our blog, we offer easy and most informative answers to users' most frequently asked questions.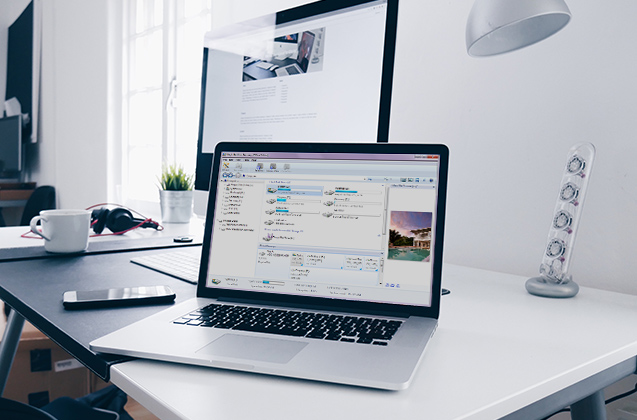 The file system recovery process in HDD is a popular topic. Hard disk is prone to physical damage, aging, and other factors that can corrupt the file system. If you want to retrieve lost data, you will need to repair a damaged file system with the help of different internal and external tools. And we are ready to assist you with this article.
So, what can you do to recover a file system?
The file system determines the format of contents and how the information is stored physically, grouped into clusters called files. That is, it's the part of the operating system that provides you with a convenient interface for the management of data stored on the hard drive. If the disk file system is corrupted, you cannot get access to the data. When trying to access a disk with a damaged file system in Windows File Explorer, you can encounter the following errors: "The file or directory is corrupted and unreadable" or "The disk structure is corrupted and unreadable." Otherwise, such disk may not be available in the list of volumes within your operating system.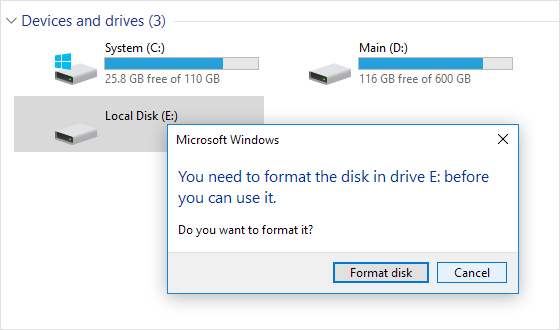 Is it possible to recover files in such a situation? How can you recover data from the disk on your own if the file system is corrupted?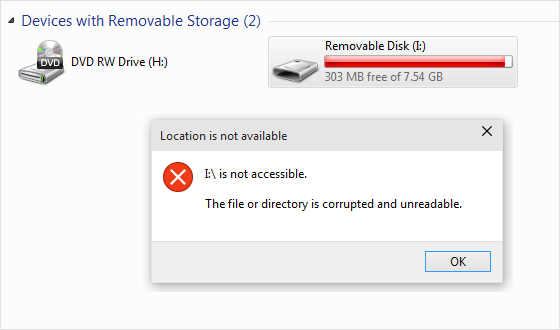 First, the operating system will suggest you format the damaged partition. You should not agree to do that. However, if you did agree to format the disk already, don't worry. Of course, in this case, the recovery process will be more complicated. This is the reason why you should completely wipe out your drive if you're planning on selling it. Your private data can potentially be recovered, thus putting you at risk.
Whether you can recover a file system doesn't depend on its type. Whether your drive operates on NTFS, FAT16, FAT32, or exFAT, the corrupted file system most likely can be recovered. However, they do operate based on different principles, so you might need an NTFS recovery tool for NTFS file system repair.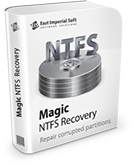 Magic NTFS Recovery
Offers a quick, easy way to recover data from badly damaged, corrupted and inaccessible disks and partitions.
How to Recover a Corrupted File System with Built-in Tools?
Windows 10 is equipped with a wide variety of specific tools that might help you solve different problems. When it comes to file system recovery in OS, there are specific steps you can take before referring to specialized software. Some of them are:
Run an Antivirus Scan
Malware is a common reason for file system corruption. If that's the case for your device, before you repair the file system, you need to remove any trace of the malicious software from your data storage. Furthermore, advanced antivirus software can, in some cases, repair the data and the file system table damaged by the virus, thus fixing the issue as a whole.
Run a CHKDSK Scan
CHKDSK scan is a built-in Windows tool designed to detect the damaged or corrupted sectors and fix the file system errors connected to them. While this solution is not too powerful and cannot fix more severe issues, it should be the first step in the recovery file system. Here's how you can use it:
Press Win+R and type in cmd.exe in the window;
Enter the command chkdsk /r /f X:, where X is a letter of the partition you want to scan;
After the scan has finished, reload the system and check if the file system has been restored.
Launch an SFC Scan
In certain cases, the reason behind the file system corruption is an error connected with one of the Windows system files. To fix this type of issue, you can use an SFC scan to find any damaged or missing system files. This tool will also fix most errors connected to this type of issue. Here is how to restore a file system using an SFC scan:
Once again, press Win+R and enter cmd.exe;
In this window, type in the command sfc /scannow;
When the scan is finished, restart your PC and check if the effect you were looking for was achieved.
How to Recover a Virus Infected Files and Repair a File System Using a Recovery Tool?
In this case, what you need is a simple but versatile partition recovery tool to cope with all the tasks. With complicated algorithms and cutting-edge technology combined, Magic Partition Recovery is still easy-to-use and comprehensible. You don't need to have lots of experience and knowledge about data recovery – this utility will do everything for you. Its interface is simple and looks like Windows File Explorer, so you can browse your disks, folders, and deleted files just as easily as you do every day when dealing with actually existing files on your computer. The program restores the logical structure of the disk which makes it possible to recover files even when the file table is corrupted beyond repair or missing.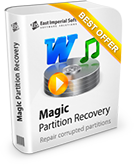 Magic Partition Recovery
Recover lost information, repair broken partitions and rebuild damaged file systems in fully automated mode.
You can download Magic Partition Recovery from the developer's official website: www.magicuneraser.com. Follow the detailed guide below:
Step 1: To recover data, install and run Magic Partition Recovery, then select the hard drive analysis module.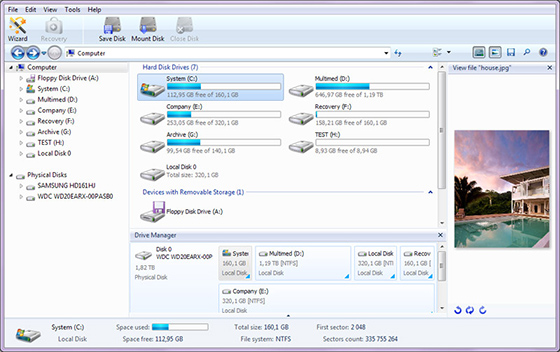 Step 2: Select the disk with the corrupted file system and analyze it.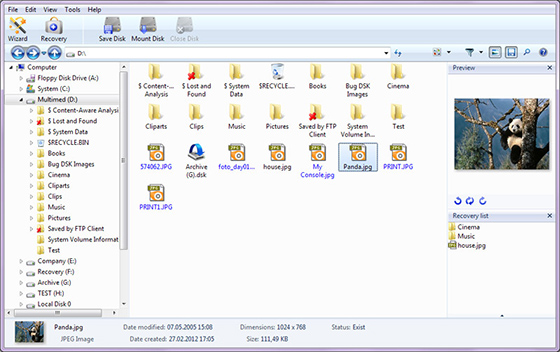 The scanning process may take some time as the software finds and puts together every file stored in the damaged partition.
Final Thoughts
There are a lot of possible reasons behind file system corruption. This can make recovering a damaged file system an arduous task. You can try multiple built-in Windows 10 tools, and they might still not help you.
Thankfully, there are versatile data recovery tools that will help you solve this issue easily and fast. Try out Magic Partition Recovery, and you will see that it is a reliable tool that will help you recover any lost files and corrupted drives.
FAQ
Yes, some tools can help you to recover a damaged file system, namely CMDCHK and SFC scans.

Yes, but you need to make sure that the drive is properly connected and has its letter name in the system.

Yes, multiple data recovery tools are suitable for file system repair. Magic Partition Recovery is among the best solutions for the job.