7 Best EaseUS Data Recovery Alternatives for Windows and Mac
Published: January 28, 2022
Updated: April 14, 2022
Every Windows user has met with the loss of files and data at least once. This can range from a few missing text documents from your desktop to the complete loss of all information on your hard drive. Moreover, these events are beyond the user's control and happen suddenly in most cases. However, user errors can also lead to data loss.
Many programs have been created to recover lost files. These solutions scan the user's hard drive and try to recover data that the operating system has not yet overwritten. One of the popular apps of this type is EaseUS. What if we told you there are good EaseUS alternatives for data recovery?
Why EaseUS Data Recovery Tools are so Popular
Before analyzing EaseUS alternatives in detail, let's find out why users choose EaseUS as a data recovery tool. It would hardly be so popular if it did not have unique advantages that attract the attention of ordinary users.
Accessibility
EaseUS is incredibly accessible and runs on both the Windows and Mac platforms. Both versions are designed with all the features of operating systems in mind, which allows you to achieve excellent performance. For example, devices running on the Mac system are equipped with a T2 chip, Apple's security solution. While most data recovery programs can't work with it, EaseUS beats all the competition and works great with this chip.
Speed
As mentioned above, because this software is tailored for specific platforms, EaseUS provides excellent performance and speed. In addition, the program quickly scans the necessary paths and quickly restores files, which is crucial when valuable data are lost.
Reliability
EaseUS is a brand that has stood the test of time with over a decade of history. The first version of this program was released in 2008. It has since undergone many changes and acquired a vast audience. More than 530 million companies and ordinary users currently use this data recovery product.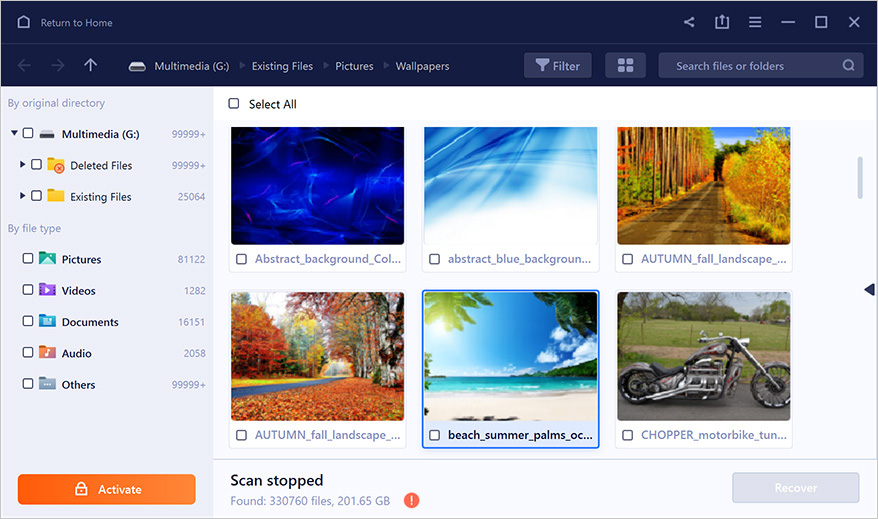 EaseUS Cons
There are no perfect products on the market, and even EaseUS has weaknesses that should be taken into account when choosing data recovery software.
High price
First, let's talk about the company's pricing policy, since this is the first thing that users pay attention to when choosing data recovery applications. EaseUS is a relatively expensive solution for both a single user and a company with many computers. If you want to use this solution without restrictions, it will cost you $149.95 per computer. If you can't afford it, you should look at EaseUS free alternatives, which we will cover later.
Limited free version
Those who want to try the product before buying it are also unlucky. The free trial version of EaseUS is minimal and will not allow you to fully experience all the features of this app. For example, this version limits the size of recoverable files to 2 GB.
Big files recovery takes time
EaseUS has some issues with large data. Scanning and recovering such chunks of lost data can take a long time, inconveniencing users.
Non-beginner-friendly interface
Even though the developers have tried to make the interface as intuitive as possible (which they undoubtedly succeeded in), it is still quite difficult for absolute beginners. In addition, it will be difficult for non-English speaking users to understand the interface due to the limited number of supported languages.
Best EaseUS Data Recovery Alternatives
Below, we present five software solutions to replace EaseUS to recover your lost files.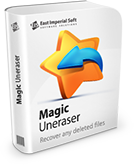 Magic Uneraser
Supporting all versions of Windows, Magic Uneraser allows you to recover information from all types of storage media.
Magic Uneraser
Magic Uneraser is a data recovery tool that can restore any file on your hard drive (videos, images, programs, games, documents, etc.) so that you can access and use them again. The interface of the program allows you to follow a step-by-step procedure for restoring any object. You just have to scan the entire drive, partition or a specific folder, select the file or files you want to recover, and click. Magic Uneraser can recover files from any hard drive, laptop, memory card, or USB formatted in FAT32, NTFS, ReFS, APFS, Ext or any other file system.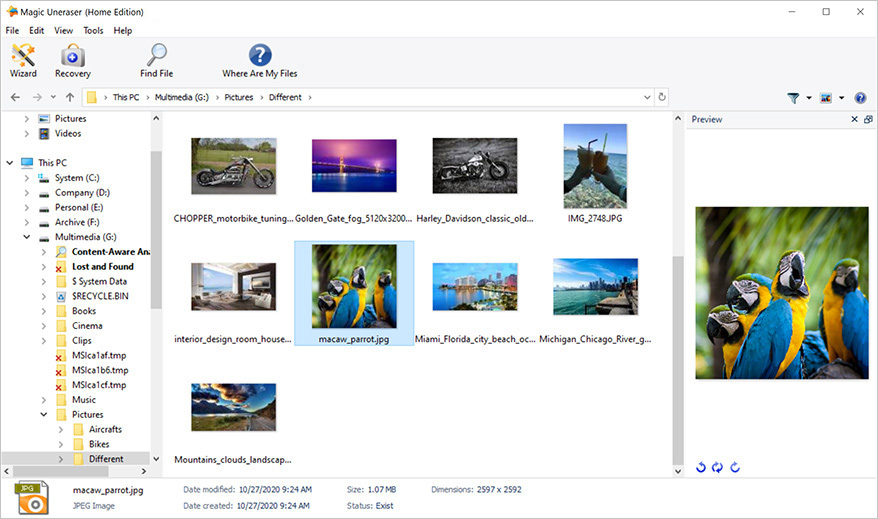 Pros
Backup capability;
Does not require special knowledge;
A large number of supported versions of operating systems.
Cons
Trial version does not recover files.
Disk Drill Data Recovery
When it comes to data recovery, the first thing that comes to mind is Disk Drill. This program has been on the market for a long time and has been actively developing all this time, unlike its competitors in the market. This software solution has gained tremendous popularity due to a wide range of powerful features, the ability to recover any storage media, as well as a user-friendly interface.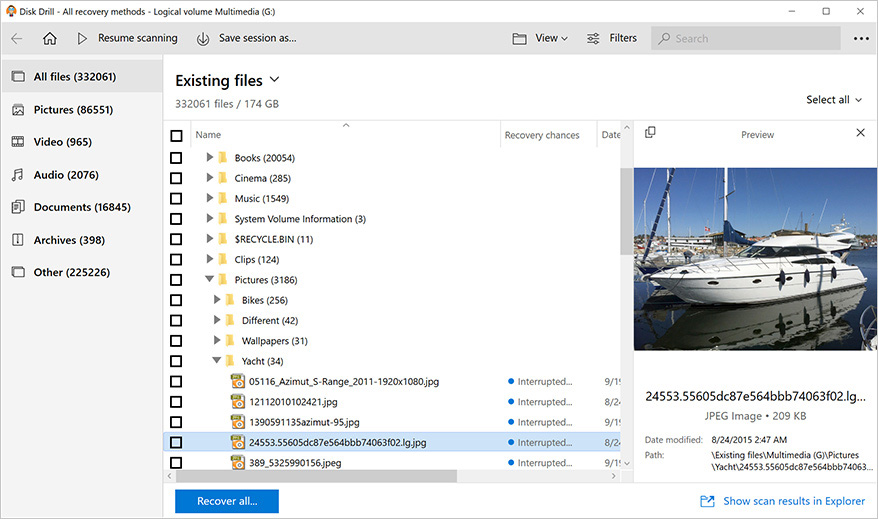 Pros
Easy to learn user interface suitable for absolute beginners;
Extensive data recovery options;
Ability to make backups and set copy protection;
Trial version with broad functionality and file recovery up to 2 gigabytes;
Great customer support.
Cons
Does not support mobile devices;
A full system scan may take time.
Photorec
Photorec is a rather unusual EaseUS data recovery free alternative, as it does not have a full-fledged UI/UX using a text interface instead. However, behind the simple appearance lies a powerful open-source data recovery tool that is constantly being improved by the caring community. Photorec was initially planned as a tool for recovering various media files, but it acquired the ability to retrieve other data types over time.
This tool is a favorite of advanced users, as the program does precisely what it promises and does it quickly (thanks to the lack of a bulky interface).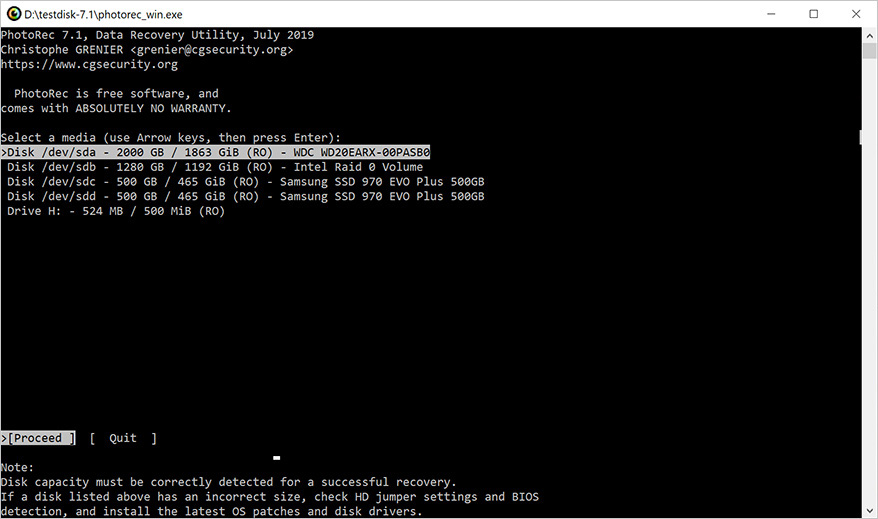 Pros
Extremely high performance;
Free, open-source, and customizable;
Support for a large number of recoverable file types.
Cons
Nondescript text interface can be intimidating;
Requires command line knowledge and experience;
No additional features and quality-of-life improvements;
Lack of customer support.
Windows File Recovery
Windows File Recovery is another one of the well-known EaseUS alternatives that will help you fix your lost data problem. Windows File Recovery supports the recovery of various types of files to prevent permanent data loss. Signature mode, which works with file systems other than NTFS, allows you to recover data from digital cameras, SD cards, and other storage devices. The utility will help you find deleted data on your hard drive, SSD (limited by TRIM), USB drive, or memory card.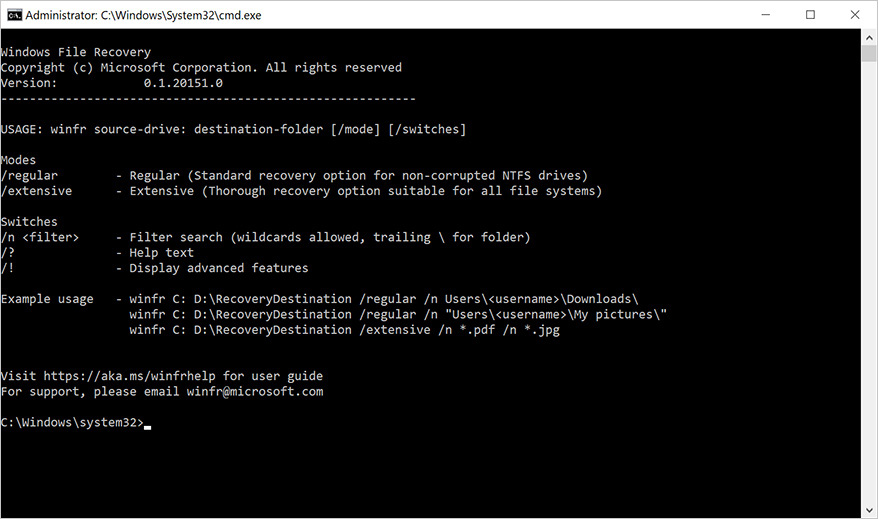 Pros
Support for a wide range of file systems;
Ability to work with different types of data storage;
Various recovery modes.
Cons
Unfriendly command-line interface;
Lack of portable versions.
Stellar Data Recovery
Stellar Data Recovery is an excellent data recovery program with a friendly interface that will help you get your lost data back. This program has more than 200 types of files that it can recover, ranging from simple media files to complex databases. In addition, the program can add custom file types for recovery using USP Stellar (which is a feature for advanced users). Thanks to its intuitive interface and lovely color palette, this program is excellent for beginners.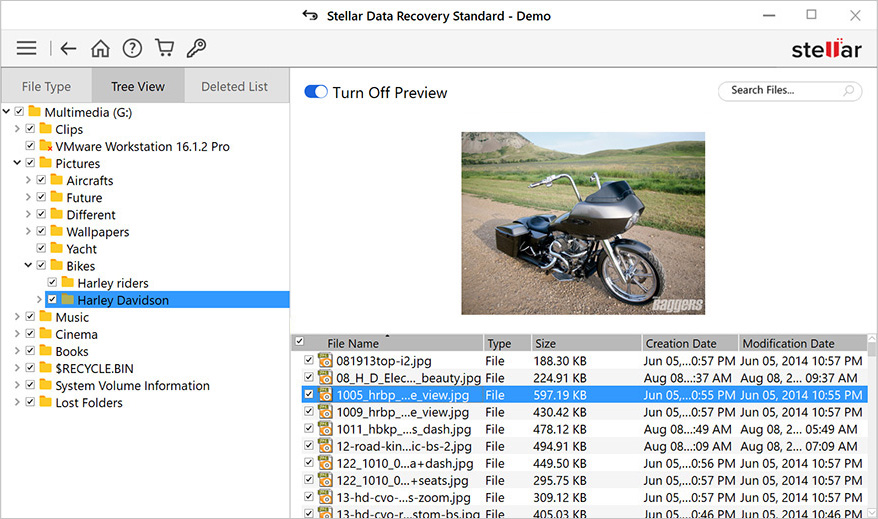 Pros
Simple and user-friendly design;
The ability to try the trial version before buying;
Advanced users can add their own recovery file formats.
Cons
Pricing is limited to a subscription model only;
Data recovery results are not always the same quality.
Recuva
Recuva is a veteran data recovery software and one of the good EaseUS alternatives for data recovery. For more than ten years, this program has been helping ordinary users in data recovery due to its simplicity, power, and speed of recovering many file types and files from recycle bin. In addition, Recuva has a fairly large user base that can help beginners with advice in case of any problems with the data recovery process.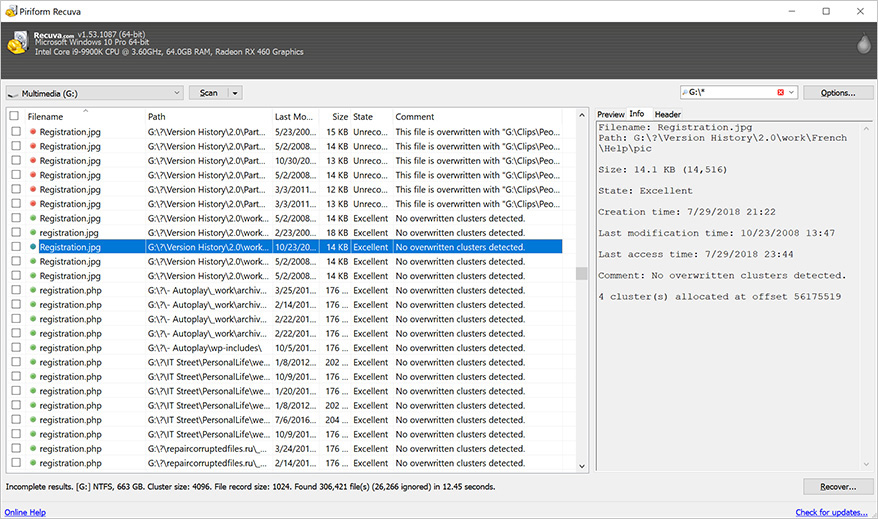 Pros
Great performance;
Small size;
Free trial version;
Has a portable version.
Cons
Pretty complex interface design;
Data recovery results are not always the same quality.
Minitool
MiniTool Power Data Recovery is one of the latest EaseUS data recovery wizard alternatives on our list. In its arsenal, this program has all the necessary features to recover a large set of files and data, satisfying the needs of both simple and advanced users.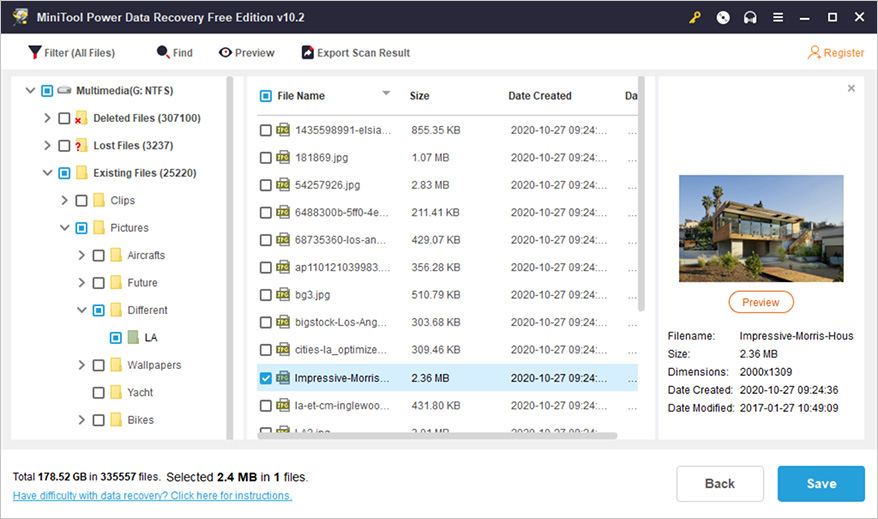 Pros
All the necessary features for file recovery come out of the box;
Advanced algorithms for high quality and speed of file recovery.
Cons
Outdated visual design and counter-intuitive interface;
The free version has the limitation of not being able to view scan results.
Software comparison
| Criteria | Magic Uneraser | Disk Drill Data Recovery | Photorec | Windows File Recovery | Stellar | Recuva | Minitool |
| --- | --- | --- | --- | --- | --- | --- | --- |
| Price | $39.95 | $89 one-time purchase | Free | Free | $89.99 – $199 per year | $19.95 one-time purchase | $59 – $159 |
| Platforms | Windows | Windows, macOS | Windows, macOS, Linux, Sun OS, FreeBSD | Windows | Windows, macOS | Windows | Windows |
| Supported file systems | NTFS, FAT, exFAT, ReFS, APFS, HFS+, Ext2/3/4, XFS, Btrfs, ReiserFS, ZFS, UFS, HikvisionFS | NTFS, FAT, exFAT, APFS, HFS, HFS+, Ext3/4 | NTFS, FAT, exFAT, HFS+, Ext2/3/4 | NTFS, FAT, exFAT, ReFS | NTFS, FAT, exFAT, APFS, HFS+ | NTFS, FAT, exFAT | NTFS, FAT, exFAT, Ext2/3/4 |
| Trial | Preview version | Full-fledged trial version | Full functionality is free to use | Full functionality is free to use | Preview version | Full-fledged trial version | Limited trial version |
| Speed | Pretty fast | Depends on disk size | Pretty fast | Pretty fast | Pretty fast | Depends on disk size | Pretty fast |
| Size | 41 MB | 500 MB | 20 MB | 2 MB | 46 MB | 4 MB | 2 MB |
| User-friendliness | Easy-to-learn interface and overall flow | Easy-to-learn interface and overall flow | Requires technical skills | Requires technical skills | Simple for any-skilled users | Simple for any-skilled users | Unintuitive interface |
| Customer support | Constant support and regular updates | Constant support and regular updates | No support at all | Constant support and regular updates | Constant support and regular updates | Constant support and regular updates | Constant support and regular updates |
What to Consider When Choosing Alternatives to EaseUS Data Recovery
It is easy to get lost in the variety of apps for data recovery, and it is easy for an unprepared user to make the wrong choice.
We have collected a few things that you should consider for finding the perfect EaseUS data recovery alternatives that will solve your problem with lost data.
Type of Storage Medium
First, you must clearly understand from which medium the data was lost. Ordinary media like hard drives, USB drives, and memory cards can be easily recovered using any data recovery software. However, various RAID-based devices, including DAS, NAS, SAN, and server systems, will require more advanced software solutions to recover the lost files. In addition, you should bear in mind that even a simple storage medium may contain encryption, volume virtualization, and data deduplication, which may also require advanced applications compatible with such storage media.
Type of File System From Which Files Disappeared
The file system type also plays a massive role in choosing alternatives to EaseUS data recovery. This type is determined by the first formatting of the data stored by the operating system itself. The program of your choice must work with different kinds of file systems. Otherwise, the data recovery process simply cannot be started. Most solutions on the market can work with the main Windows, Linux, and macOS platform file systems, but there are also more advanced systems like ReFS, ZFS, or Btrfs, which significantly narrows your choices.
Also, do not forget that storage media manufacturers can create their own file systems (for example, DVRs, camcorders, and so on have these). Data recovery from these devices may also require special software.
Types of Files That Require Restoration
Most data recovery programs work with metadata that allows you to recover lost files, regardless of their format. However, if the data is severely corrupted, smart reconstruction is needed, which is beyond the power of many solutions on the market. It is also worth considering special file formats, such as recordings from video cameras, which also require special software to access and restore them.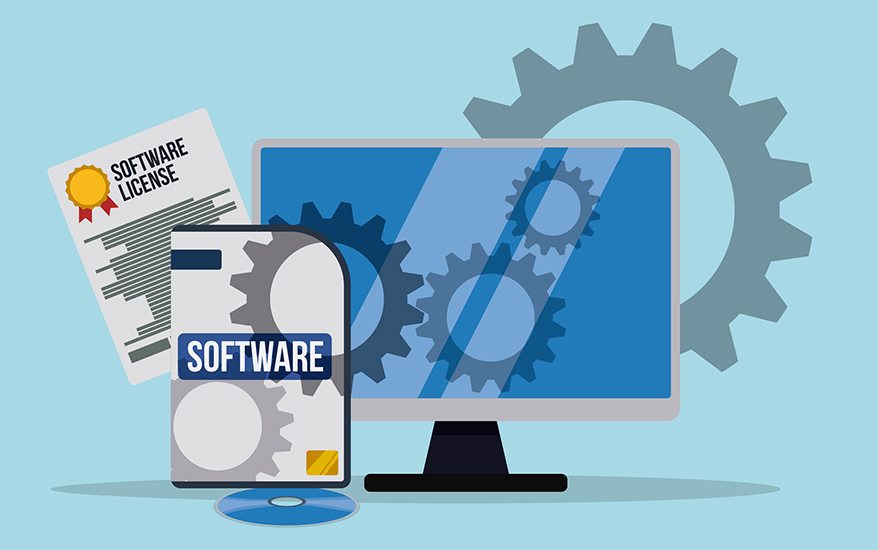 Your Technical Skills
The more professional the data recovery utility is, the more features it has in its arsenal to cover the broadest possible range of problems. However, at the same time, the requirements for the user's technical skills are also growing. It is quite difficult for inexperienced users to work with such utilities, and it is worth choosing solutions aimed at a wide audience and which have an intuitive interface. Consider your PC skills when choosing an EaseUS partition recovery alternative.
Your Operating System
Each data recovery program is customized for its operating system. Each OS has its nuances of file systems and requires a particular approach when creating file recovery software. As a result, you should take into account your operating system and select an alternative to EaseUS partition recovery with the relevant supported OS. If the program is cross-platform, you must pick the correct version of the installer for your operating system.
Consider Magic Uneraser as an Alternative to EaseUS
The loss of valuable data can bring a bad mood and stall important work processes of entire businesses. It is good that there is a way out of such seemingly critical situations.
For more than 19 years, we at East Imperial Software have been creating solutions that save the valuable data of millions of users every day. In our line of digital products, there are 13 different software solutions that will help you recover lost data.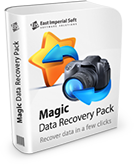 Magic Data Recovery Pack
Recover deleted files, undelete music, unerase movies, documents and pictures with the most advanced file recovery software!
Our software solutions help more than 170 million users worldwide, and we strive to cover as many file loss cases as possible and help in their recovery. If you are looking for EaseUS alternatives for data recovery, we recommend our line of Magic Data Recovery software products, namely:
Magic Partition Recovery tool. A program to recover information from damaged, formatted, corrupted, and inaccessible disks and solid-state storage media formatted with any version of FAT or NTFS.
Magic RAID Recovery software. Solution for repairing corrupted RAID 0, RAID 1, RAID 4, RAID 5, RAID 6, and many other types of arrays by connecting the disks to your computer.
Magic Data Recovery Pack. A software pack consisting of Magic Uneraser and Magic Photo Recovery for recovering deleted files and photos, respectively.
Final Thoughts
So, as you can see, the search for programs like EaseUS data recovery involves taking into account many nuances, and the choice can take time. You must take into account the type of lost files, the file system, and your own skills. In addition, there are many file recovery programs on the market, and it is easy to get lost in this vast selection. However, we hope that our list of the best EaseUS alternatives will help you find the perfect digital solution to get your lost data back.
FAQ
To speed up the search process and make the right choice in a huge variety of data recovery software, you should consider the type of data store, file system, and data format that needs to be restored. Besides that, you must consider your device's OS and your own technical skills.

At the moment, excellent alternatives in the software market for recovering lost data are Magic Uneraser, Disk Drill Data Recovery, Photorec, Stellar, Recuva, Minitool, and Windows File Recovery.

EaseUS is not perfect and has several disadvantages: the high price, limited free version, long recovery of big files, and non-beginner-friendly interface.