How to Recover a Formatted Partition in 6 Easy Steps
Published: December 27, 2021
Updated: April 13, 2022
Are you having trouble restoring a lost partition? You'll definitely need to carefully choose what software tools to solve it with. In particular, using multitasking software designed to solve common problems can produce unpredictable results. In this article, we will explain how the data recovery procedure works, and which recovery software should be used in such situations.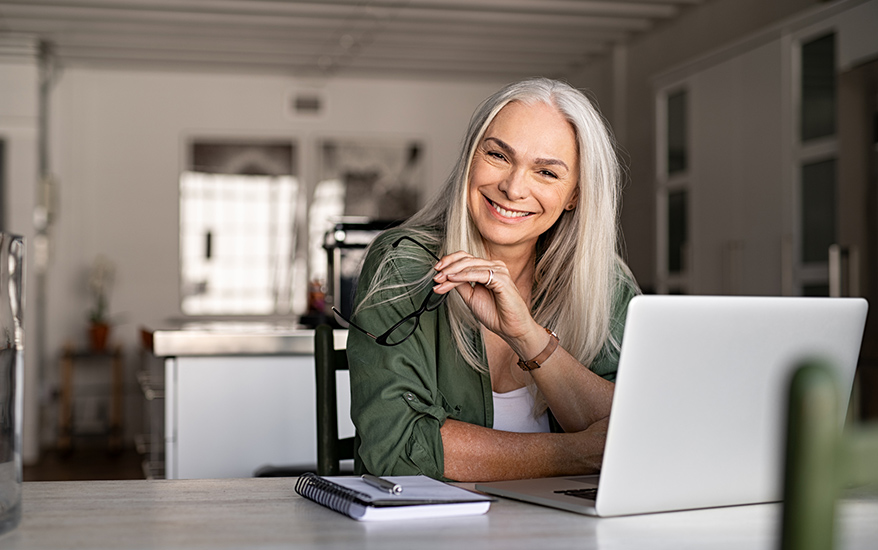 Restoring a lost partition: Main reasons and effects
Before we dive into solving the problem of accidentally deleted data, let's analyze the root causes of formatted partitions. Here are the main reasons for it:
you formatted partition by accident;
you used formatting volume or partition of hard drive to quickly delete all data on the drive;
you got the error message like "Format the disk before using it";
you needed to change file system type;
your disk was infected by the malware, and you decided to format it;
you decided to eliminate bad sectors on the drive.
So, how to recover data from formatted partitions? Only three methods to restore exist:
to use free partition recovery software;
to use paid tools;
to recover a RAW (or unformatted) partition.
As the practice shows, only the second method is worth trying (why this is so, we will explain below).
If you are confused about how to recover a lost partition, check out our top product, Magic Partition Recovery, which will help you solve your problem safely and simply. You can also learn more about Magic Partition Recovery features in our blog.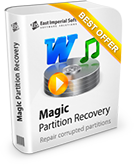 Magic Partition Recovery
Recover lost information, repair broken partitions and rebuild damaged file systems in fully automated mode.
How to recover data from a deleted partition
Let's explore how to recover a deleted partition.
Install the tool you've chosen
The first and probably the most obvious step in data recovery is to download and install a specialized program. If you download free software, please remember to make sure it is safe for your device and does not contain viruses.
Run the tool and choose the disk with damaged partitions
Now you have to launch the application and designate the disk with damaged partitions – this way, you will help it establish a connection with the lost data.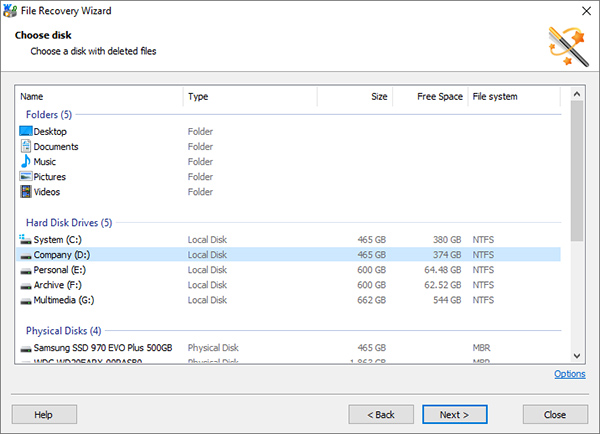 Scan the disk to locate the files
Now start the scanning procedure – usually, it is completely automated, and all you need to do is click on the appropriate button. This way, you can preview files ready for recovery.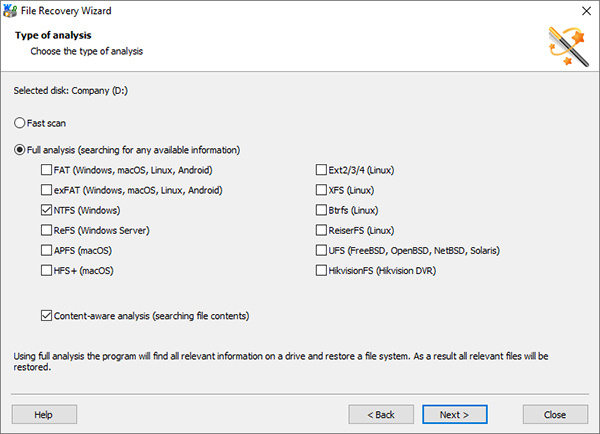 Wait before the tool gets access to deleted files
The file system scan procedure is automatically completed by establishing a connection with the lost data, so all you have to do is wait for it to complete.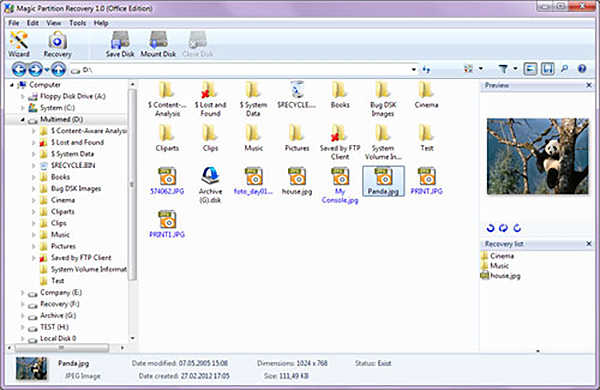 Recover and save the files
Hooray, now you can start recovering deleted files. As practice shows, this step is also automated in the vast majority of specialized applications, so here you just need to click on the corresponding button.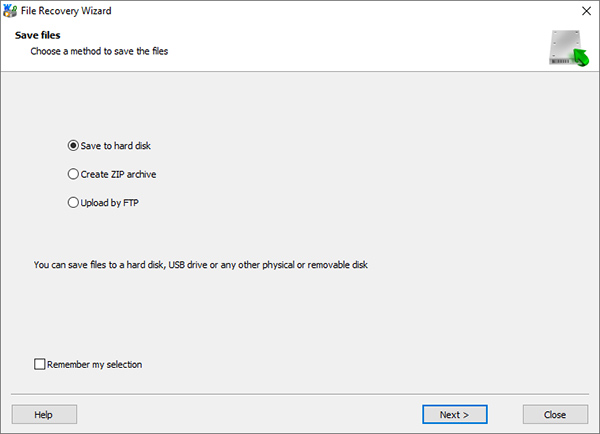 Check the recovered files
To make sure that the recovery procedure was performed correctly, check the format in which the files were saved to the new storage. In order to prevent similar situations of data loss in the future, make a regular backup.
Benefits of paid software that will help you to restore a deleted partition
Now that we've figured out how to undelete a partition, it's time to figure out why paid software is the best choice for this task.
Fast customer support
The first thing to start listing the benefits of proprietary software is really fast customer support. Indeed, most paid programs imply either instant or very prompt processing of user requests. In turn, in the case of free software, you may have to surf the Internet for hours to find the answer to your question. In addition, you run the risk of doing something wrong here and provoking irrecoverable data loss.
A lot of advanced features
As a rule, free software used to recover a missing partition is characterized by minimal functionality and cannot cope with complex data recovery situations. At the same time, paid solutions are usually tailored to solve a wide range of tasks and, in just a couple of clicks, are able to return files even in seemingly hopeless cases.
Easy-to-use tool
You probably know how difficult it can be to understand the functionality of open-source software created by dozens or even hundreds of developers from all over the world. Instead of spending several days mastering a complex user interface, you can choose a proprietary alternative that is perfectly tailored for the beginner's level.
Works even with broken and inaccessible disks
Unlike free software, which often works effectively only in the simplest cases, paid options are able to cope with even the most unusual situations and recover even completely lost files.
Compatibility with a wide range of storage media and file systems
Typically, proprietary software is compatible with a much wider range of file systems and physical drives. In particular, Magic Partition Recovery is compatible with all versions of Windows, Linux, macOS, and Unix file systems, as well as HDD, SSHD, SSD, USB, SD cards, etc.
If you appreciate all the above advantages of proprietary software, now you can try out the best one, Magic Partition Recovery, specially created to restore a deleted partition.
Consider Our Company Your Trusted Partner
Being a provider of data recovery software solutions, the East Imperial Soft company currently has more than a dozen products for eliminating physical and logical problems with a user's device. One of these top products is the Magic Partition Recovery – a perfect tool that will help you recover files from a deleted partition.
In particular, with the help of this proprietary software for Windows and Mac, you can prevent permanent deletion of files and repair lost data from HDD and SSD formatted in any version of FAT or NTFS file system in just a few steps. Overall, this is an ideal solution for those people who are faced with the problem of bad sectors or deleted partitions, and now do not know how to get back the data that was stored there.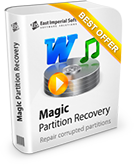 Magic Partition Recovery
Accidentally formatted your hard drive? Deleted or modified its file system? Try Magic Partition Recovery for free!
Note that all the manipulations that you have to perform inside this recovery program are automated, which means that you do not have to study cumbersome manuals in order to understand the basic principles of its operation and not lead to irreversible consequences. The Magic Partition Recovery tool independently identifies the damaged folders on the disk and returns your files to you in their original format.
And finally, note that this program is ideal for both inexperienced PC users and professionals.
Now we'll show you how to recover files from a formatted partition with our step-by-step guide:
Install and run the software. Run the data recovery application and select the disk with damaged partitions.
Run the scan procedure. At this step, you have two options: select "Quick Scan" (suitable in most cases) or "Full Analysis" (this option will help identify corrupted FAT, NFTS, ReFS, etc. files).
Wait for the analysis procedure to complete. After the program analyzes all partitions of the disk, it will take some time to get to the damaged data.
Start the recovery procedure. Complete the recovery process by choosing a new storage location for your files (this can be a hard drive, USB, memory card, and other physical storage).
Make sure the recovered files are saved in the format you need. This is a formal procedure that will help you make sure that the program did its job correctly (you may also need to use a file converter).
If something still seems confusing to you, check out our Magic Partition Recovery guideline, where the steps for using this tool are described in even more detail.
Conclusion
Don't bother with how to recover formatted partitions anymore. As you can see, this is not such a difficult task when you use the right software. Otherwise, the recovery procedure may result in partial or even complete and irrecoverable loss of data. Therefore, in order not to expose your files to any risks, use only professional software products, such as the Magic Partition Recovery.
FAQ
Now let's summarize the above and answer the most frequently asked questions, one way or another, related to the main question of our article - how to recover data from a deleted partition?
To restore lost partitions reliably and safely, you need a specialized formatted partition recovery software. Thanks to this, you will not have to seek the help of specialists and, moreover, you will not accidentally delete all data without the possibility of their recovery.

If you want to recover a damaged partition, just follow these steps consistently:

download and install the partition recovery tool you've chosen;
run the wizard and choose the disk with damaged files;
run the automatic scanning procedure to find the location of the damaged files;
push the Recover button to save the files in the directory you've designated;
check if the recovered files were saved in the appropriate format.

The proprietary nature of the software indicates its reliability and the absence of any viruses (which is typical for free products used to restore a formatted partition). In addition, in case of any questions or any problems, you can always get prompt assistance from the support staff.