7 Steps for RAID 5 Data Recovery Guide: How to Recover Data from a Failed RAID 5 Array
Published: December 23, 2021
Updated: April 13, 2022
RAID 5 technology allows three or more hard drives to be combined into a single array to distribute data evenly and ensure file system integrity. Unfortunately, even these reliable arrays have problems, and then the question arises: "How to recover data from RAID 5?" Below, we will tell you about the reasons for the failure of RAID 5, as well as provide a detailed guide on how to recover data from RAID 5 hard drive.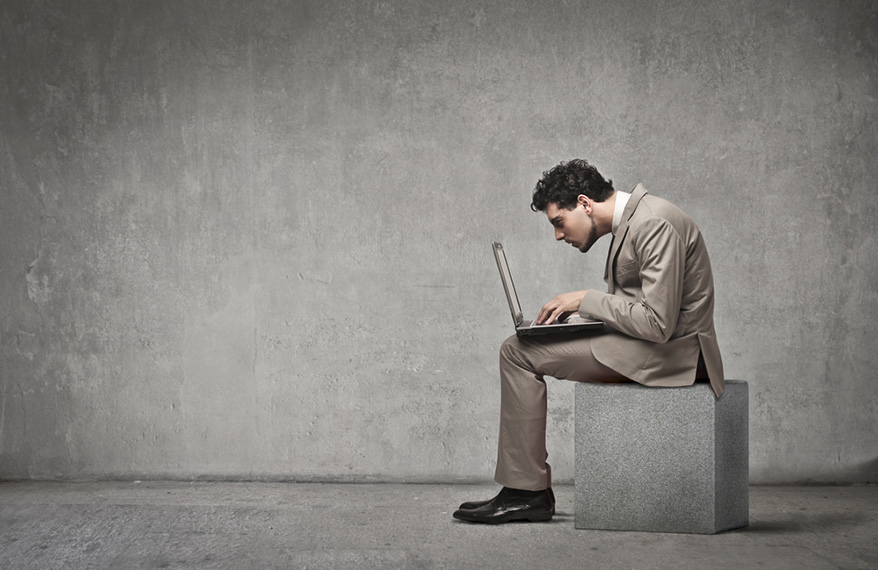 Recovering data from RAID 5: why does it happen?
Even though a RAID 5 crash may seem like the end of the world, the reasons for which are unclear, in practice, it turns out that quite trivial factors lead to this:
failure of one of the RAID 5 disks;
failure of two or more RAID 5 disks.
In addition, you may encounter such common causes of RAID 5 failure as:
unintentional deletion of data;
damage to files or folders;
damage to file system;
the action of malicious software.
By the way, these arrays are also subject to external influences: someone could drop a hard disk, the server could burn out, or water could get inside it. The RAID controller can be broken down. In addition, cheap models have a low price tag not only due to simplified algorithms – you always have a chance to get a defective product.
So how to recover from RAID 5 failure? As practice shows, manually, without the help of third-party software or specialists (who would use such solutions), you cannot do here. So, there are two standard ways out of the situation:
to use free recovery tools;
to use paid advanced troubleshooting software.
Unfortunately, there is currently no free option that is both secure and easy to learn and guarantees 100% data recovery after a RAID failure for most hardware and software. It is much better in such situations to use proven paid software, which even a basic PC user can handle. This is exactly what Magic RAID Recovery is. Try it yourself to repair RAID 5 and be sure of the effectiveness of every cent you spend.
Magic RAID Recovery
The ultimate solution for recovering data from healthy and corrupted single-disk and multiple-disk storage solutions.
How to recover data from RAID 5?
First, let's find out how to recover RAID 5 with one failed drive.
Connect the array disks as independent local disks
Before you rebuild the lost files, you have to connect the hard drives to your PC as local disks.
Run the software you've chosen
Download, install and run the RAID recovery software you've chosen. Make sure that the tool you choose is virus-free. That is why it is better to trust paid software (rather than open-source solutions) here.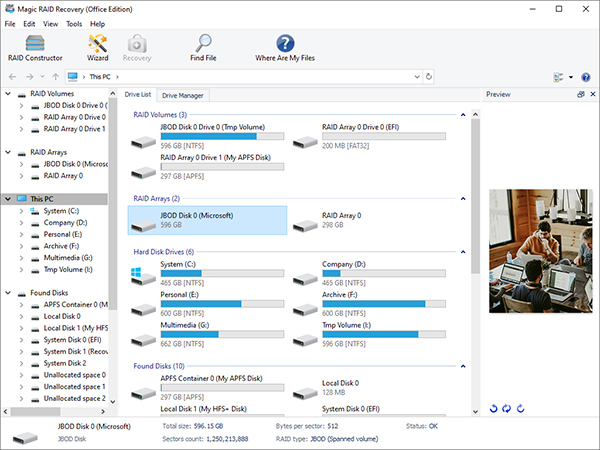 Add the needed disks to the recovery list
The program automatically detects all the parameters of your RAID. You don't need any special technical skills to recover your lost data with Magic RAID Recovery. It's surprisingly easy to use.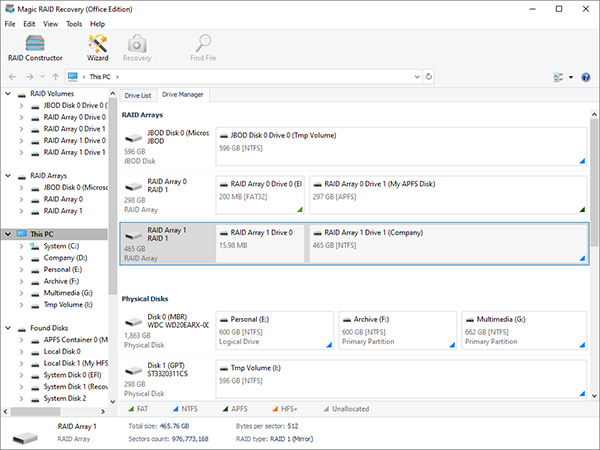 But if you are an accomplished computer user or work in a data recovery service, you can start using the tool manually by adding every new RAID disk to the disk list in your data recovery software. Also you have to specify RAID parameters such as the type of RAID, number of disk groups, block size etc.
Open the logical disk
Choose the appropriate mode and open the needed logical disk. This disk will contain lost files from the failed RAID array in the HDD section.
Choose the needed data and save it to the new place
Now that all the necessary data has been restored, you will need to find new, reliable storage for them (up to repairing the array) so that the situation does not repeat itself. Also, you should take care of automating the backup so that you or your client does not have to do it manually on a regular basis.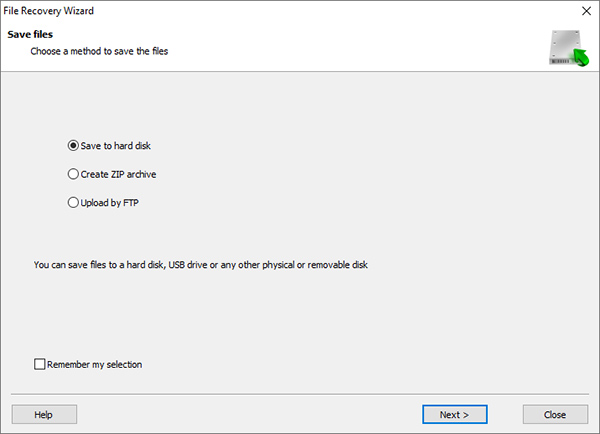 Check the data you've recovered
After all needed data is recovered you have to check its integrity and format. This is a very important procedure for business because, without such a mandatory check, you or your client may be faced with the inability to open important files at a critical moment.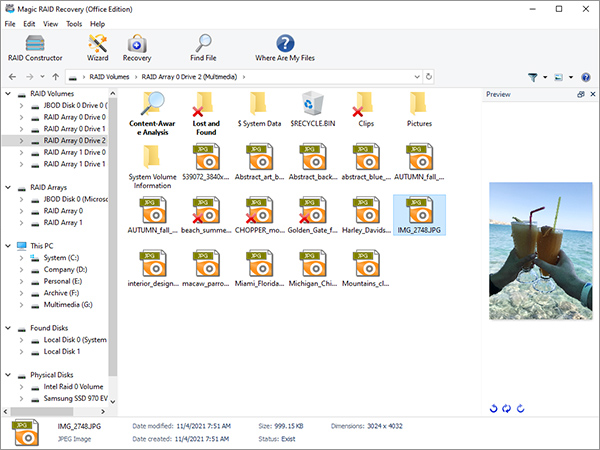 … But what to do if two disks failed?
But what to do when you need to recover data from RAID 5 with 2 failed drives? First, you have to define the whole number of disks in the array. If two out of three disks fail, you have not many chances to rebuild RAID 5. But if there are more disks in the array, the outcome of the situation will depend on several factors.
For instance, the more drives the RAID consists of, the better chances to recover RAID 5 will be. Also, you have to properly manage the problem – stop RAID operations or turn off the RAID controller (or the whole computer). After these actions, you have to use specialized data recovery software.
Benefits of paid software you use to recover data from failed RAID 5 array
Why look for paid proprietary software when there are tons of free options out there? However, in a situation with complex solutions for data recovery, any incorrect action can lead to its irrecoverable loss. If you want to know more about the benefits of proprietary solutions in detail, read below.
Enhanced customer support
Even if you are lucky and you find a completely safe product without any viruses, you may face another trivial problem – a lack of understanding of how to use it in your particular case. Is it worth hoping for help from the support team here? Unlikely.
Perhaps you will find a solution to a problem similar to yours on some of the forums, but a lot of time can be spent on this. So, the conclusion is obvious here.
Advanced features
The free solution you found may be useful only in the simplest situations, or you may not recover all the data you need. Thus, it is better to buy professional software with advanced features that will fully cope with the task at hand.
Wide selection of supported hardware and RAID levels
Free software developers rarely provide compatibility with a wide range of devices and operating systems. Thus, the promises they made come true only in one-off cases – in the rest the program refuses to work in the real environment. A completely different matter is proprietary software, which, as a rule, guarantees compatibility with all popular (and not so) OS and devices.
Easy-to-use tool
And finally, another reason not to use free software, which was originally intended for professional use, is that it can be very difficult to work with and completely unsuitable for non-advanced PC users. In turn, the product we offer is adapted both for beginners (in this case, you can run an automatic data recovery procedure) and for specialists (in this case, you can set the settings manually).
We are sure that now you have no doubts about which software to choose for RAID 5 recovery – open source or proprietary. In particular, in the second case, you always get a guaranteed result. Therefore, if you have a problem and need to recover data from failed RAID 5 array, try one of our top products – the Magic RAID Recovery tool! Also, you can learn how to recover files deleted by a virus in our next article.
Magic RAID Recovery
The ultimate solution for recovering data from healthy and corrupted single-disk and multiple-disk storage solutions.
Consider Our Company Your Trusted Partner
The East Imperial Soft company specializes in data recovery software development for many years. The company currently boasts more than a dozen professional, highly specialized products for recovering data after facing physical and logical problems with users' hardware. One of these top products is the Magic RAID Recovery – a perfect tool that will help you to recover RAID array.
In particular, with the help of our unique product for Windows, you can effortlessly recover damaged RAID 0, RAID 1, RAID 4, RAID 5, RAID 6, and other types of arrays by connecting them to your PC with a preinstalled wizard. It is compatible with Synology, QNAP, ASUSTOR, Western Digital, Thecus, TerraMaster, Buffalo NAS, and more.
By the way, with the help of Magic RAID Recovery, you can cope with data recovery even in the event of the failure of several RAID disks at once. In particular, if two disks from the array break, our product will use its own proprietary recovery algorithms that will help you quickly recover lost data in its original form.
And finally, we note that our application is ideal even for non-advanced PC users who are faced with such an unpleasant situation.
Now we offer you to learn how to recover data from failed RAID 5 with our step-by-step guide for Windows OS:
Select appropriate disks. After the installation, open the Magic RAID Recovery and choose the array to analyze the damaged sections.
Create a new array. You can use the automated tool for RAID array detection or do it manually, creating a new array.
Choose the needed type of analysis. Now you have to choose what kind of RAID analysis you prefer – quick or full – and wait for the finishing of the scanning procedure.
Recover all needed files. Hurray, this is the final step! All you have to do – choose the needed data or restore all the disks of the RAID array.
Conclusion
We hope we have helped you figure out how to recover data from RAID 5 and what software to use in this process. Therefore, you can breathe out calmly and proceed with the recovery procedure if this trouble has happened to you. And our RAID 5 data recovery software will help you with that. Try it right now to see from your own experience how simple and predictable the restore RAID array procedure is!
FAQ
Now, to summarize the above, we offer you the answers to three of the most frequently asked questions on how to recover RAID without losing data.
Here is a list of steps to fix the RAID 5 drive failure: define your RAID 5 array configuration (the number of disks, their sequence within the RAID 5, and the stripe size); pull the RAID 5 drives out from NAS; provide access for these disks to your PC as independent local disks; run your wizard for data recovery; check the format of the recovered data and save it to new secure storage.

If two out of three hard disks failed, there is no chance of recovering data from RAID 5. But if 2 of 4-16 hard disks fail, you will be able to rescue part of the data or even all the data without damaging the integrity with the help of specialized software for RAID 5 data recovery.

You can use paid or free tools; however, in the first case, you will get a guaranteed result of data recovery from RAID 5, while free options can work unpredictably and moreover, be corrupted.