How to Recover Word Documents using Magic Word Recovery
Magic Word Recovery is designed to recover a variety of documents produced by Microsoft Word 6-2013 and all versions of OpenOffice. In addition, RTF, WPD and WRI files are also supported. This how-to guide will teach you how to use Magic Word Recovery to undelete deleted Word documents or recover them from a formatted, corrupted or inaccessible device.
Quick Scan
vs. Comprehensive Analysis
Magic Word Recovery is equipped with two different recovery modes: Quick Scan and Comprehensive Analysis. Selecting one or another is essential for successful recovery.
The Quick mode is blazing fast, and works best on healthy disks for recently deleted documents.
On the other hand, the Comprehensive mode is much slower, but does miracles on damaged, corrupted and inaccessible devices.
Document Recovery Wizard
The fully guided, step by step recovery wizard will help you configuring the right settings in a quick and easy way. The Wizard will assist you in choosing the right recovery method, Quick or Comprehensive, and guide you through the rest of the process.
Quick Scan:
Fast Recovery of Recently Deleted Documents
Recently deleted documents can be recovered in just minutes when you use the Quick Scan mode. In this mode, Magic Word Recovery will scan the file system, looking for file records pointing to deleted files. As this only takes seconds even on the largest hard drives, you can use the Quick mode even on the largest hard drives, and it'll only take seconds from start to finish.
Comprehensive Analysis:
Recovers Word Documents from Damaged Devices
If you have a formatted, repartitioned or corrupted hard drive, or if you cannot access a storage device, the Comprehensive Analysis mode will help. In this mode, Magic Word Recovery will access the disk in low level, reading its entire content to look for recoverable documents. The Comprehensive mode is extremely thorough. The scan may take significant time to complete depending on the size of your disk.
Integrity Checks Deliver 100% Recovery Guarantee
During routine workflow, multiple copies of Word documents are created when you edit the documents and save changes. When a new version of a document is saved, it may fully or partially overwrite the previous copy. You can easily have dozens, if not hundreds of partially overwritten copies of the same file, with only the last few being actually recoverable.
Instead of adding all the unusable copies to the list of recoverable files, Magic Word Recovery ensures that you only see the documents that are in good shape by performing a final integrity check. The integrity check verifies document's header and internal structures for corruption. If a file is successfully validated, Magic Word Recovery adds it to the thumbnail gallery. You can access full-size previews of these files even in the free version of the product, while the full version of Magic Word Recovery will be able to save those documents.
Content-Aware Analysis
In Comprehensive mode, Magic Word Recovery employs a highly sophisticated content-aware analysis method allowing the tool to reliably identify and recover documents stored on badly damaged disks.
Content-aware analysis reads the entire content of the hard drive, looking for characteristic signatures identifying known document types. If a known signature is encountered, Magic Word Recovery will calculate the exact physical location of the file, and perform a final integrity check to ensure that the file is actually recoverable.
Using the Recovery Wizard
The Recovery Wizard offers step by step assistance, making it easy to select recovery options that are best suitable for your situation.
First, select a drive letter or a physical device containing your documents. Note that you should always select a drive letter (logical disk) if you are recovering deleted files, or are performing a recovery from a regular, healthy media. If, however, you are dealing with a repartitioned hard drive or inaccessible device, you may need to select a physical device. Note that physical devices may contain several partitions, which can increase scanning time significantly.
Select Quick Scan or Comprehensive Analysis. Quick Scan is extremely fast, so it's worth trying even if you have a damaged disk. If Quick Scan returns no results, use the much slower Comprehensive Recovery.
After finishing the scan, all recoverable documents will be added to a gallery as thumbnail previews. You can click on a file to view it full-size.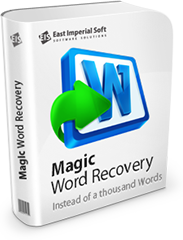 Buy Now!
Purchase Magic Word Recovery Software to revive any DOC, DOCX, RTF, and ODT files. There is no need to lose your valuable data or start over writing the latest school report. The Office Word recovery tool will save you time and effort and detect and restore all the deleted, damaged, and corrupted files.