Use a Card Reader to Read Data Directly from Your Camera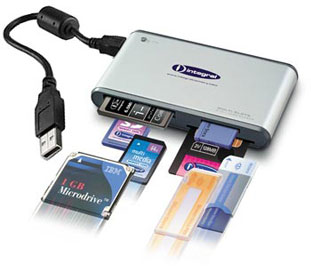 Card reader
Magic Photo Recovery works with all types of cameras and memory cards. If you cannot find your camera in the list of disks, use a card reader to connect your camera's memory card.
A card reader is a device intended for reading data from memory cards of various types. Any photographer will admit that a card reader is an extremely valuable asset for working with various memory cards, as this device greatly facilitates any operations with them, increases read/write speeds and, most importantly, helps avoid a number of problems. The most popular type of card readers is a multi-format card reader, which supports multiple memory card formats at the same time.
Some advantages of using card readers:
Data transfer speeds are manifold higher;
There is no need to download and install drivers for all of your devices;
The device is easy to use – even a child can do it;
Many card readers can write data from your computer to memory cards.
The main differences of card readers
All card readers can be divided into external (separate devices connected to your computer with a cable) and internal (built into your chassis). If you take a closer look at the assortment of card readers available on the market, you will see that internal 3.5″ devices are not so easy to find, whereas external devices are sold in plenty. Despite the fact that an internal card reader won't take any space on your table, it has a serious disadvantage: most modern computer cases have a single 3.5″ slot, which is usually taken by a floppy drive. If you opt for an external card reader, you won't have to get inside your computer to install the device – all you need to do is to connect the card reader using a USB cable.
How to use a card reader
As a rule, each card reader is supplied with a user manual and a disk with the necessary software. Simply put, all you need to do is: take the card reader, plug one end of the cable into the device and the other one into any free USB port of your computer. The computer will detect the card reader automatically and will assign one or more logical drives to it – you will see them in Windows Explorer. As soon as you install a memory card into your card reader, you can use it as a regular disk.
After you have installed your card reader and inserted a memory card, restart Magic Photo Recovery.