Remote Directory
After clicking "Next", the program will automatically connect to the specified FTP server and display the contents of the root directory or else the contents of the directory you specified (see the previous section). If a connection was not achieved and the program has recorded a connection error, then you should return to the previous step and verify your settings or contact the administrator of your FTP server.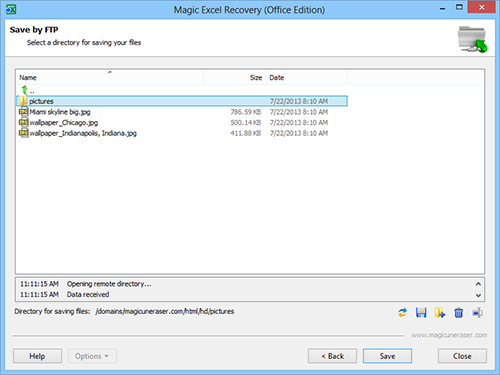 In this window you should choose the remote FTP server directory to save your recovered files. You also may create new folders, as well as delete and rename existing files and folders here.
Important! Make sure that you have write privileges for the selected remote directory, or else an error will occur during recovery and you will not be able to save the recovered files.
After selecting the remote directory click "Save" to begin the process of saving files to the specified FTP server.
Important! Saving files is possible only in the registered version; otherwise, a registration form will appear and you will be asked to register.