Magic Linux Recovery Software Restores Data from Linux/Unix Partitions
Magic Linux Recovery gives Windows users access to files and folders stored on Linux and Unix-formatted disks and offers the ability to fix issues with deleted partitions or corrupted disk volumes. The Linux file recovery tool supports disks and partitions created in all common Linux distributions, including Debian, Ubuntu, Red Hat, Fedora, CentOS, MX Linux, Manjaro, Linux Mint, Solus, and many others. File systems used in Unix-like operating systems such as FreeBSD, NetBSD, OpenBSD, MINIX, and many others are also supported through the convenient, wizard-based user interface.
Features and Benefits of the Linux Data Recovery Tool
Data Extraction
Access data stored on Linux and Unix partitions from your Windows computer;
Copy information stored on Ext2, Ext3, Ext4, XFS, Btrfs, ReiserFS, ZFS, UFS1 and UFS2 volumes.
Linux Data Recovery
Undelete files and folders from a wide range of Linux/Unix partitions;
Recover all types of data from various storage media;
Run Instant Analysis to access deleted files in a matter of seconds;
Analyze the entire disk surface with Deep Scan to find missing files even if the file system is missing.
Disk and File System Recovery
Repairs errors in common Linux and Unix-based file systems;
Rebuilds corrupted disk volumes;
Discovers missing partitions and repairs GUID partition tables;
Recognizes and supports native Linux and Unix partitions in Windows environment;
Effectively fixes most common logical disk errors.
Benefits of Ubuntu Data Recovery Software
Ubuntu is one of the most common Linux distributions that is used on desktop, enterprise servers, cloud, and IoT. Since Ubuntu is mostly used by beginners, the easy-to-use data recovery tool will often come in handy. Deleted files can most of the time be swiftly restored because the information does not simply disappear from the disk. Even corrupted and formatted partitions, hard drives, and memory cards can be accessed using the Ubuntu data recovery software and saved from going away forever.
Try Magic Linux Data Recovery Software
Purchase the Ubuntu data recovery tool to gain access to missing or deleted files. Even corrupted and repartitioned disks can be scanned and analyzed with our software. Use our tool to restore important data and never lose valuable information again.
Powerful Linux Data Recovery
Magic Linux Recovery shares its data recovery engine with our top of the line tools, delivering the latest developments in data recovery to your fingertips. The tool offers a straightforward and fully automated way to recover data from Linux and Unix file systems in the convenient Windows environment. Instant Analysis and Deep Scan correspondingly offer near-instant data recovery or comprehensive analysis of the entire disk surface.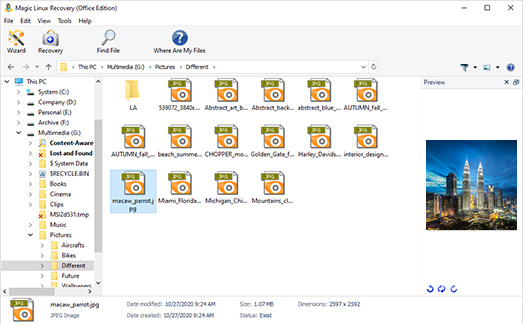 Instant Analysis
Instantly access deleted files and folders on healthy disk volumes. Magic Linux Recovery analyzes the file system to discover deleted files and folders in a blink of an eye, offering fast and secure recovery in just seconds.
Content-Aware Analysis
If the file system is corrupted, or if there is any type of logical damage preventing normal disk access, the Content-Aware feature will help to locate and recover supported files by analyzing the entire surface of the hard drive. Content-Aware uses the smart signature analysis to match the content read from the disk surface against a database of supported file formats. Once a signature match is detected, the Linux data recovery software performs the analysis of the alleged file header to determine the exact format, beginning, and length of the file. By performing the Content-Aware analysis on the disk, you are likely to recover files deleted days, weeks, or even months ago.
Linux Data Recovery Wizard
Magic Linux Recovery by East Imperial Soft employs the familiar wizard-driven user interface, guiding users through the recovery process one step after another. The data recovery wizard makes the process safe, easy, and fully transparent.
The Choice of File Destinations
When recovering a large data set, it is important to choose a separate storage media as a destination. With Magic Linux Recovery, you'll have the choice of saving files to one or more local and attached storage devices, network shares, or remote servers via the FTP protocol.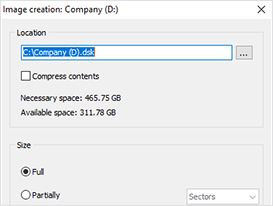 Virtual Disk Images
You may choose to perform the recovery on a virtual disk image instead of the physical drive. Linux partition recovery software can be used to both image the source drive and to process the resulting disk image for the purpose of data recovery. When working with disk images, the original data is stored safely on the hard drive. This feature greatly increases the chance of successful recovery from storage media on the verge of failure.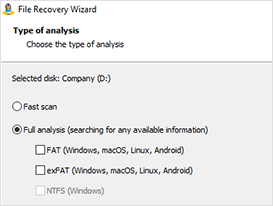 Repair Disk System Structures
Magic Linux Recovery can repair corrupted disk structures such as the GUID partition table or volume headers. In addition, the tool can scan and repair the file system, fixing errors that cannot be repaired by the command line tools built into your Linux distro. The tool can repair many common file systems natively supported in Linux and Unix-like operating systems.
Recover Files from Formatted and Repartitioned Disks
If you are a Linux user attempting to recover files after accidentally repartitioning the disk or formatting the volume, Magic Linux Recovery is the tool to use to recover the files and folders. Magic Linux undelete tool will scan the hard drive to find the original disk volumes and recover the files and folders.
Step-by-Step Guide
#1 Select Open the Linux file recovery tool and select the disk with deleted files.
#2 Analyze Choose fast scan for healthy partitions and full analysis for damaged ones.
#3 Preview The program will conduct the analysis and offer all the files that can be recovered.
#4 Recover Choose the files and let the tool restore them, and locate them on a separate disk.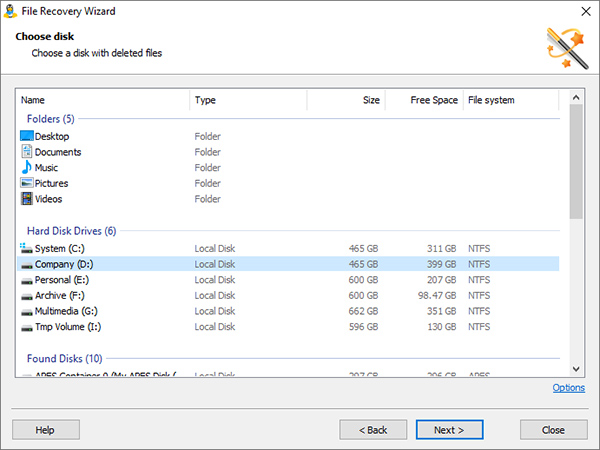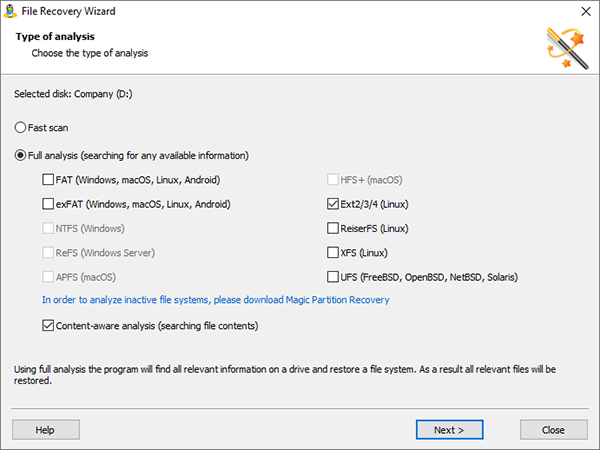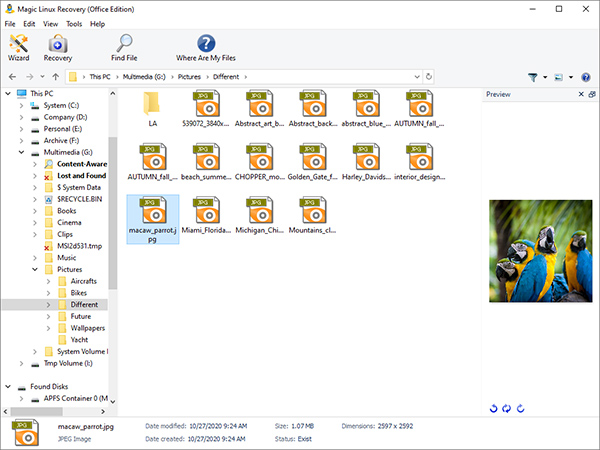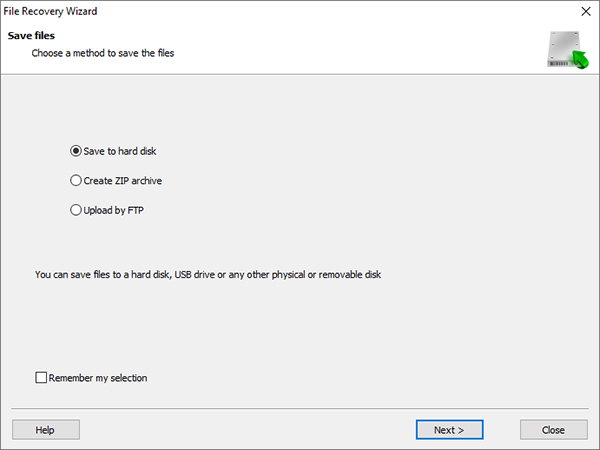 All Types of Storage Media
Linux can utilize many types of storage media, and Magic Linux Recovery can recover them all. Internal and USB hard drives, flash drives and memory sticks, memory cards, and just about any type of mechanical or solid-state storage media are supported regardless of their size. The general rule for internal hard drives is: if the hard drive can be recognized by your computer BIOS, Magic Linux Recovery can be supported.
All Types of Files
Magic Linux Recovery supports all types of files and provides documents, text files, databases, archives, image recovery, and so on. In addition, comprehensive recovery based on signature analysis is available for several hundred file formats via content-aware analysis. This feature relies on the database of file signatures, allowing the tool to identify and locate many types of files if the file system on the disk cannot be recognized.
Tech Specification
Supported File Systems
Fast scan:
Full analysis:
XFS
Btrfs
ReiserFS
ZFS
UFS 1/2
Supported Storage Media
HDD
SSHD
SSD
USB flash drive
External USB disk
Memory card
SD card
Compact flash
Internal device storage
Virtual machine disk image
Operating System
32-bit or 64-bit Intel-compatible platform:
Windows 11 / 10 / 8 / 7
Windows Server 2019 / 2016 / 2012 / 2008
Windows Vista / XP
Windows 2003 / 2000 / NT
Hardware Requirements
1 GB of RAM
Enough disk space for restoration of files
Administrative privileges are required
Features Overview
Restores files from deleted and formatted drives
The Linux file recovery software supports data from formatted, damaged, deleted, and inaccessible partitions and hard drives. The program scans the provided disk and locates the content of removed partitions. Even in the case of a formatted disk, the tool will identify the restorable files and create any of them on a different storage media. During this process, the tool will not need the file system to be present and will successfully restore the files even if the file system is emptied by the format operation.
The operations are completely safe and occur in the read-only mode to keep your file structure intact.
Recovers all types of files
The Linux data recovery tool revives all types of files from various storage media units. In just a few clicks, all of the important files can be restored and relocated to a separate disk. Magic Linux Data Recovery software provides a quick scan for healthy disks and partitions to restore files in a matter of seconds. For damaged and corrupted partitions, the program offers a full analysis using the content-aware technology, which recognizes files even from formatted drives. Magnetic hard drives, flash-based solid-state drives, and other types are supported by the data recovery software for Linux.
The program also supports files created in Linux distributions and can be used as data recovery software for Ubuntu, Debian, Red Hat, Fedora, etc.
Instant analysis
The Linux hard drive recovery tool offers an innovative fast scan that occurs in just a few seconds and locates all the files. Moreover, the search happens in real-time, and the user can see the progression before the scan is complete. As opposed to performing small-read operations, the Magic Linux Data Recovery software does a single data read. This saves time and makes the process more seamless and effortless for the users.
The fast scan feature only works for healthy partitions that do not require extra attention. For corrupted and formatted partitions, we recommend the full analysis to uncover all the saved files.
Step-by-step file recovery wizard
East Imperial Soft has been working on the simple process of file recovery for years. And now, the company is proud to present a step-by-step wizard that basically does everything for the user. Even if the recovery process is truly difficult and challenging, the user will enjoy quick and easy-to-read results. The only input that the Linux disk recovery tool requires is the disk itself to scan, the destination disk to save the recovered data, and the type of scan.
The built-in pre-recovery preview will allow viewing recoverable files in "live" mode. You can open and view deleted files just like they were regular files sitting on your disk.
Working with drive images
The file recovery software for Linux also helps you keep track of your data by creating a virtual image of the disk content. The snapshot is a complete image of the entire drive saved into a single file on another drive.
This feature has two benefits: the backup system to restore your files and fewer disk access operations. The latter drastically increases the chances for a successful recovery and keeps the data safe.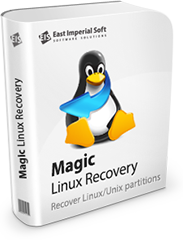 Buy Linux Data Recovery Software Now!
Check out our Linux recovery tool to uncover and restore missing and deleted files. Enjoy the simplicity of the program and recover lost data in a matter of seconds using the fast scan feature.
What Others Are Saying
I like switching Linux distros. When installing Ubuntu, I accidentally selected the wrong drive and lost my main partition in a brisk.
Magic Linux Recovery helped me restore the original partition.
I'm using a bunch of externals to back up my data. On one of them, the USB enclosure had failed. I removed the disk and used Magic Linux Recovery to copy the data to a healthy disk. The program did an excellent job!
Experimenting with Linux distros can be dangerous if you don't pay attention. Ask me how to lose years worth of photos! Thanks to Magic Linux Recovery, all of those have been recovered safe and sound.
Recommended Products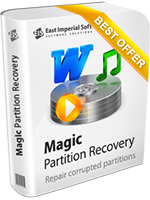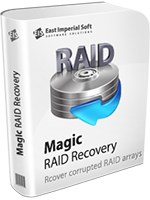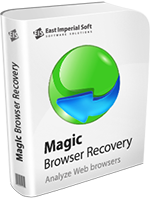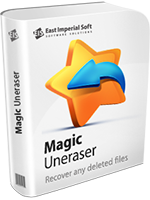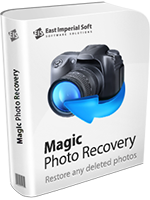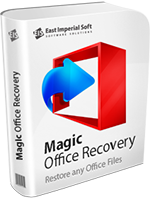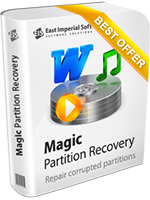 Magic Partition Recovery
Accidentally formatted your hard drive? Deleted or modified its file system? Your system says that partition is corrupted and needs formatting?
Recover lost information, repair broken partitions and rebuild damaged file systems in fully automated mode. No matter how badly damaged your disk is and whether you have a file system on it or it's completely gone, Magic Partition Recovery can carefully recover your files and reconstruct the partition system structures.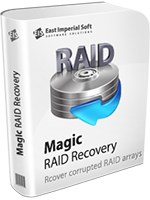 Magic RAID Recovery
Repair corrupted RAID 0, RAID 1, RAID 5, RAID 6, RAID 10 and many other types of arrays by connecting the disks to your computer.
Recover data from single-disk and multi-disk attached storage devices and NAS servers. Extract data from hard drives used in Synology, QNAP, Seagate, Western Digital, D-Link, TerraMaster and Netgear systems.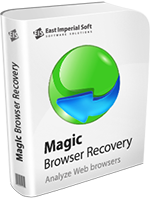 Magic Browser Recovery
Recover information from a wide range of Web browsers. Access stored passwords, bookmarks, browsing history, and social activities.
Magic Browser Recovery will automatically identify Web browsers ever used on the computer and perform a comprehensive scan of your computer's file system and disk surface to recover passwords, bookmarks, browsing history and activities in social networks.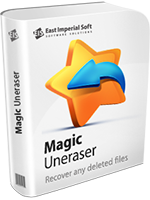 Magic Uneraser
Have you deleted important document MS Office, DVD video, mp3 file or photo? Restore any deleted file using Magic Uneraser!
Magic Uneraser offers fully guided, step-by-step approach to recovering deleted files. Supporting all versions of Windows including Windows 8 and Windows 10, Magic Uneraser allows you to unerase deleted files and recover information from all types of storage media.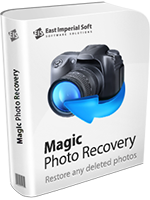 Magic Photo Recovery
Recover all types of images quickly and reliably! Magic Photo Recovery recovers deleted photos from hard drives, memory cards or digital cameras.
Magic Photo Recovery makes digital photo recovery easy. The fully guided, step-by-step file recovery wizard allows unerasing deleted photos completely automatically. You can recover files from healthy and damaged hard disks and digital cameras, corrupted and formatted memory cards, etc.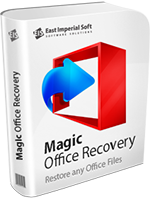 Magic Office Recovery
Deleted an important document? Formatted a disk containing your working files? Windows won't let you open a disk?
Magic Office Recovery can undelete documents and spreadsheets, recovering files from damaged, corrupted, formatted and inaccessible devices. Built-in document integrity checks ensure 100% recoverability, while step-by-step wizards and thumbnail view make the recovery process easy and convenient.