Selecting a Disk
You can use the convenient step-by-step wizard for analyzing, searching for and saving deleted files.
First of all, you need to select the disk containing the deleted images. The program shows you the list of disks found on your computer. Apart from your hard drive volumes, this list contains all connected external media (USB drives, flash cards, etc.). If you cannot find your camera in the list, use a card reader to connect your camera's memory card.
Read more about using card readers…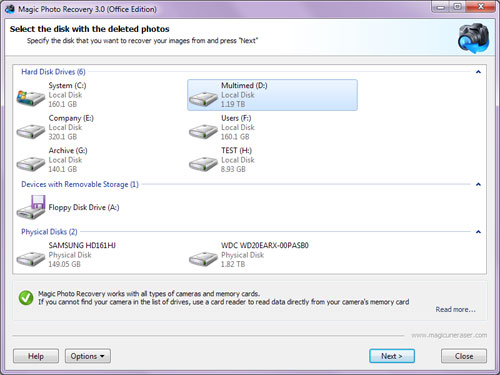 Here you can open a previously saved disk image by clicking "Options" – "Mount Disk". After it is opened, the new disk is immediately added to the list of existing disks in "Mounted Disks".
Read more about working with disk images…
You can also find deleted partitions. To do so, select the physical disk containing the deleted volume in the list of disks and click "Options" – "Find Partitions". The found volumes will be added to the overall list in the "Found Disks" section.
Read more about searching for deleted volumes…
To change the view and sorting order of disks, click "Options" and select "View" or "Sort by" menu.
To view a disk's properties right click it and select "Properties" from the pop-up menu.
Read more about the properties window…
You can also change the program's interface language. To change the language click "Options" – "Language".
Select a disk containing deleted files and click "Next".