How to Recover Office Documents using Magic Office Recovery
Magic Office Recovery has everything you need to recover lost or deleted documents produced with Microsoft Office and OpenOffice applications. Supporting a wide range of formats such as DOC/DOCX, XLS/XLSX, ODS, ODT, Adobe PDF and many other formats, Magic Office Recovery can reliably undelete files from healthy, formatted, corrupted and inaccessible storage media. This how-to guide will help you learn using Magic Office Recovery to recover office documents step by step.
Document
Recovery Wizard
The Recovery Wizard will guide you through the entire recovery process one step after another. The Wizard will help you choose between logical disks and physical devices and select an appropriate recovery setting: Quick or Comprehensive.
The Quick mode is blazing fast, offering a chance of a quick recovery for recently deleted documents. The Comprehensive mode, on the other hand, is extremely slow and thorough, delivering the best possible recovery ratio by scanning the entire disk surface.
Quick Scan: Undelete Documents in a Snap
The Quick Scan mode delivers blazing-fast performance, allowing you to quickly undelete documents that were deleted just recently. The Quick mode works by scanning the file system for file records marked as "deleted". This, on the one side, offers great recovery speed. On the other side, the Quick mode should not be used if you are recovering documents from a formatted, corrupted or inaccessible device.
Comprehensive Analysis: Recover from Formatted, Corrupted and Inaccessible Drives
The Comprehensive Analysis mode engages content-aware analysis to reliably locate, validate and recover documents stored on formatted, repartitioned and damaged devices. If you see a Windows error message saying that the disk cannot be accessed, or that it has no file system and should be formatted, use Comprehensive Analysis. This mode can be very slow depending on the size of your disk, but it delivers the best possible recovery rate.
Content-Aware Analysis
The Comprehensive mode uses content-aware analysis, a technology that reads off information from the entire disk surface in order to locate recoverable documents. This technology relies on raw data matching a set of pre-defined signatures that are commonly encountered in supported document formats. The idea is similar to that of anti-virus scanners: the tool looks inside the files instead of searching by file names.
Automatic Integrity Check Ensures 100% Recoverability
If you recover documents deleted a long time ago, some parts of them may get overwritten with other files before you get to recover them. This is how Windows handles disk space that belongs to deleted files. There could be literally thousands of copies of corrupted and incomplete documents cluttering the view.
Magic Office Recovery does an extra step to ensure perfect recoverability. Magic Office Recovery performs a comprehensive integrity check on each and every document before it gets added to the list of recoverable files. If the file passes the consistency check, it's 100% recoverable – guaranteed.
Saving the Documents
During the last step of the recovery process, you will need to specify location to save the documents to. Make sure to use a separate device or drive letter. Saving onto the same disk that contains your deleted files may permanently overwrite their content, making further recovery impossible. Using a separate device for that purpose is essential.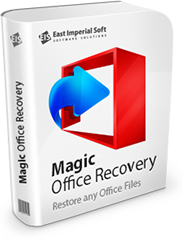 Buy MS Office Recovery Tool Now!
Check out the data recovery software for MS Office to restore missing or deleted files. Instead of starting the project from scratch, use the tool to locate the file and bring it back to life in a matter of seconds.