RAID Creation Method
You can select one of the available RAID creation methods.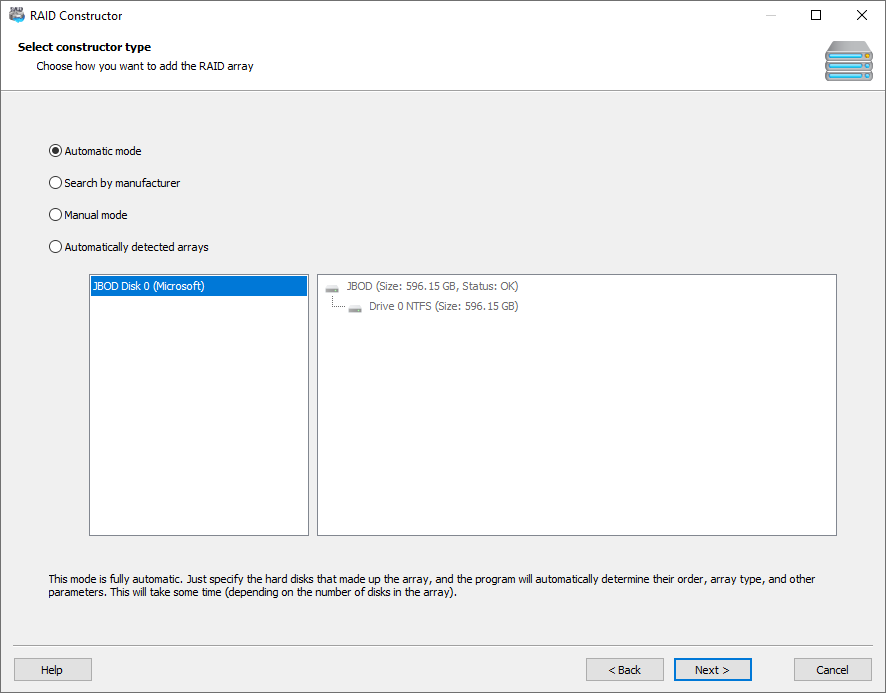 Automatic mode. This option will attempt to recreate the RAID array in a fully automatic mode. You will need to specify the number of disks used in the array and select those disks from the list of storage devices connected to your computer. The program will detect the rest of the configuration parameters automatically. If the RAID array consists of four or more drives, the automatic search may take a long time.
Search by manufacturer. If you know the manufacturer of the RAID controller that was used to run the array, you may use this option. The difference between this option and the full auto mode is that is Magic RAID Recovery will be able to find the correct configuration parameters faster. In this mode, you will need to specify the manufacturer of the original RAID controller and the list of disks included in the RAID.
Manual mode. If you are an expert, you may want to manually specify the parameters and properties of the RAID array. If you do not know one or several parameters, Magic RAID Recovery will attempt to detect them automatically.
Automatically detected arrays. When you launch Magic RAID Recovery, the tool will read service information from all physical disks connected to your computer in an attempt to determine which disks have been used in a RAID. If such RAID arrays are detected, they are displayed in the list below. You can select the required RAID from the list and click "Next" to change its properties or add it to the list of storage pools.