5 Best Recuva Alternatives for Windows and Mac
Published: February 18, 2022
Updated: August 4, 2022
Even most advanced computers are vulnerable to storage deterioration and data losses. To repair your devices, you'll need data recovery tools.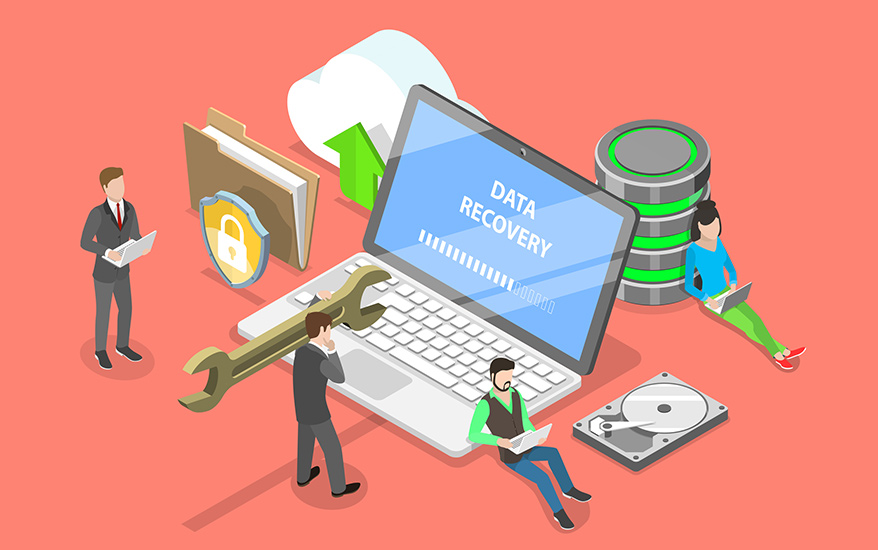 In this post, we outline the best premium and free alternatives of Recuva, which will help you to get back essential files and even restore the functioning of disks.
Why Recuva Software for Data Recovery is so Popular
Recuva is a classic software to scan deleted or damaged files and repair them. Unfortunately, this tool for data recovery is not the best current option on the market. Before we jump into reviewing Recuva alternatives, here are the features for which Recuva has been popular for some time:
Simple interface. While technicians may find that the control panel of Recuva is not functional, the software is intended for novice users who prefer simplicity and convenience.
Efficiency. In most cases, Recuva meets user expectations and recovers deleted files. However, owners of the trial version of Recuva may notice the deterioration of scanning algorithms' quality, resulting in not detecting some files that the premium version would find.
Versatility. Recuva is the only tool for data recovery by CCleaner. It implies that all functionalities that the developers may offer are already present in this software. It is an excellent decision for novice users.
Cons of Recuva
It may be a bit odd to see Recuva so fiercely criticized after all the advantages we've just described. However, our latest experience shows there are better software products for corrupted photo scanning, FAT recovery, and other types of data restoring. Here's the list of cons other programs like Recuva are mostly deprived of:
Does not cover all the existing types and formats of data. It is claimed that Recuva supports most of the common data systems and about 500 file types, which is an average performance for a program of this caliber.
Only supports Windows. Compared to competitors covering at least two platforms each, it is a significant disadvantage.
Slow recovery speed. While most Recuva data recovery alternatives tend to show moderate to high scanning and file restoring speed, Recuva itself operates rather sluggishly. Deep scanning of large-volume disks may last for hours.
No portable version. Customers are not offered an official portable version to download along with the basic installer. Thus, users must have Recuva installed before running any recovery procedures.
No support for the trial version. Users that have difficulty using the free version of Recuva cannot contact the support team directly. Instead, they are offered to use the community forum).
Lack of complementary tools. While most developers try to diversify their digital solutions to respond better to particular needs, Recuva is an all-in-one tool that may not resolve specific problems.
Why Recuva is Not Free
Recuva is presented as an affordable solution for customers who do not require an expert tool for data recovery. You can familiarize yourself with pricing plans for Recuva in the infographics below.
While Recuva seemingly solves user issues at the most attractive price possible, some hidden costs are included. First, you cannot purchase the Professional edition for a lifetime. Instead, you pay $19.95 on an annual basis.
What is even more confusing is that you cannot find the official price for licenses that support a different number of PCs. To learn how much it costs to purchase, for instance, a license for ten PCs for a business, you have to contact the support team. It is implied that you may be offered any price based on unknown factors.
What are the Best Recuva Alternatives?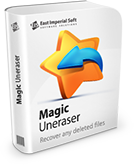 Magic Uneraser
Supporting all versions of Windows, Magic Uneraser allows you to recover information from all types of storage media.
Magic Uneraser
Magic Uneraser is the product of East Imperial Soft company. This software is presented as an excellent decision not only for corrupted or deleted data recovery but also for solving a wide range of other issues associated with media storage.
Magic Uneraser is a highly versatile utility tool that incorporates advanced algorithms for scanning, fixing damaged partitions and formatted disks, recovering files from memory cards, USB disks, and recycle bins, and repairing crashed hard drivers.
Concerning tech specifications, Magic Uneraser supports all versions of Windows, making this tool a great Recuva alternative. Data systems covered are: NTFS, FAT, FAT32, exFAT, Hikvision FS, APFS, HFS+, Ext2/3/4, XFS, Btrfs, ReiserFS, ZFS, UFS 1/2. Additionally, Magic Uneraser supports all existing types of data.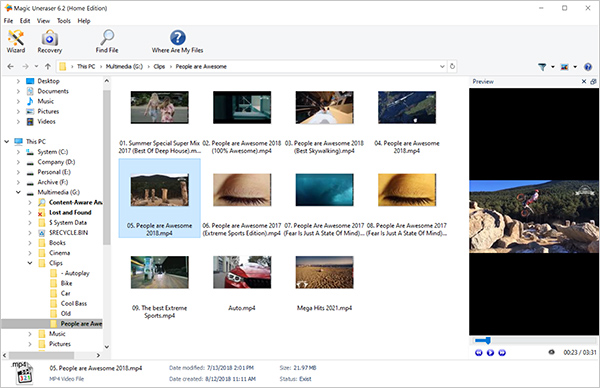 Advantages that make Magic Uneraser a notable competitor to Recuva are the following:
Versatility. While East Imperial Soft has particular digital tools for specific purposes, Magic Uneraser meets most customer needs.
Availability of portable version. Unlike Recuva, which has no official portable version, Magic Uneraser can be downloaded as a .zip archive and used without prior installation.
Convenient Interface. In contrast to competitors that have either control panels with restricted functionality or complicated interfaces, Magic Uneraser is suitable for both expert and novice users and even technicians.
Great effectiveness. Recuva is known for omitting files during scanning and recovering. Even the trial version of Magic Uneraser is deprived of such malfunctioning and operates well in most cases.
Great customer support. Many developers tend not to provide support for users who have not purchased a premium version of their software yet. Luckily, Magic Uneraser is different. All customers may contact the support team 24/7. This service becomes even faster and more supportive after buying any edition.
Here's the list of the only weaknesses of Magic Uneraser:
Complementary tools are sometimes required. Users may face issues that Magic Uneraser is not intended to solve. As such, you may need Magic Photo Recovery, Magic Browser Recovery tool, or any other, designed for a specific purpose.
There is no mobile version. Unfortunately, you cannot download Magic Uneraser on your mobile device and run recovery procedures. You can still scan and repair a phone's folders via the basic version for computers.
Disk Drill
Disk Drill is one of the most famous data recovery tools, which still can compete with Recuva. This software is presented as an advanced utility for restoring a damaged disk's correct functioning and recovering deleted and corrupted files.
Disk Drill is a great Recuva Mac alternative, considering the availability of an edition that supports the popular operating system. Similar to Recuva, there are no complementary tools to Disk Drill intended explicitly for photo, RAID, and partition recovery.
Concerning tech specifications, Disk Drill has Windows, Linux, and macOS editions. It also supports the most common data systems. But it can restore only 301 file types, which is considered below average.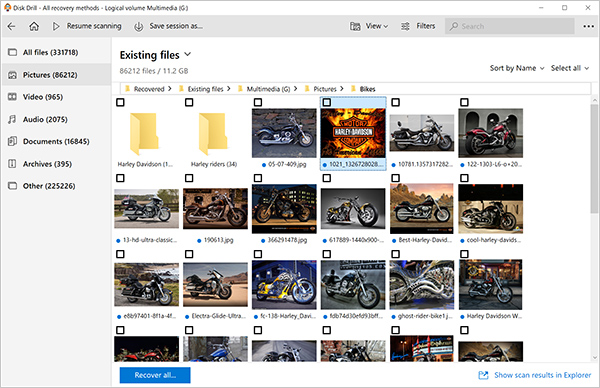 Advantages that have made Disk Drill popular are:
User-friendly interface. The program is intended for device owners rather than for technicians. As a result, most first-time data recovery tool users can easily conduct necessary operations for file restoring.
High effectiveness. If we disregard the limitations of the trial version of Disk Drill, the premium edition typically performs as advertised and recovers most file types.
Versatility. Disk Drill is an all-in-one tool that does not have to be complemented with supporting utilities. Novice users find such an approach convenient.
Here's the list of the disadvantages of Disk Drill:
Low functionality. Deriving from the last advantage, proficient users are not offered any supportive functionality, such as partition, browser, office, RAID, or any other recovery.
There are no portable and mobile versions. Similar to Recuva, Disk Drill does not exist in the portable version. So, users are deprived of the convenience of recovering their files without prior software installation. Additionally, there is no Disk Drill mobile version, so device owners have to connect their phones to computers to scan folders and run recovery procedures.
Customer service support is hard to contact. Even owners of premium editions typically receive answers to inquiries with delays. Users also complain that the support team does not provide detailed solutions to problems raised and mostly are not helpful in addressing issues.
Stellar Data Recovery
Stellar Data Recovery is one of Recuva alternatives for Windows that offers more than restoring damaged or formatted data. This single tool for recovering all file formats is a simple and versatile solution for customers.
Stellar Data Recovery works with USB disks, hard drivers, recycle bins, and many other types of storage. It even offers Dual Monitor support and Virtual Drive recovery, which is considered a rare feature.
As for tech specifications, this program supports Windows, Linux, and macOS. Stellar Data Recovery covers the most widespread data systems and hundreds of file types.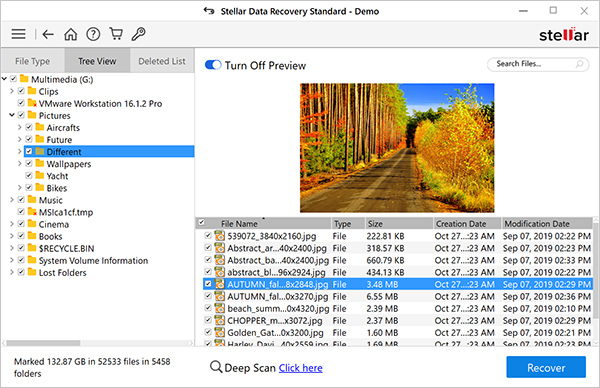 The strengths of Stellar Data Recovery are:
User-friendly interface. Even first-time data recovery software users will be comfortable running most procedures for data restoring in Stellar Data Recovery.
Great recovery capabilities. Stellar Data Recovery is not explicitly intended for photo, video, RAID, and partitions recovery. However, it restores deleted or damaged files with great effectiveness.
Here's the list of weaknesses of Stellar Data Recovery:
Restricted demo. The software offers users to restore up to 1 GB of files for free. It is twice more than Disk Drill does but is still considered a substantial limitation of the trial edition.
There is no portable version. One more time, Stellar Data Recovery does not have an official portable edition.
Complementary tools are required. Users cannot effectively restore photos and videos using Stellar Data Recovery only and have to purchase specialized software.
DiskGenius
DiskGenius is a professional tool for comprehensive data recovery. This promising software like Recuva goes beyond restoring information and can assist in solving common technical issues with data associated with PCs and laptops functioning.
It is claimed that DiskGenius can recover deleted and formatted data, restore lost partitions, and revive unreadable disks and drivers damaged because of a virus attack. Additionally, this software assists in repairing hard drive bad sectors and other types of disk damages and even can handle Windows crashes.
Regarding tech specifications, unfortunately, only Windows is supported. DiskGenius is compatible with the same data systems that Magic Uneraser is and can additionally work with Virtual Disk files. Compared to other Disk Drill competitors, the software supports about 200 file types, which is considered far below average.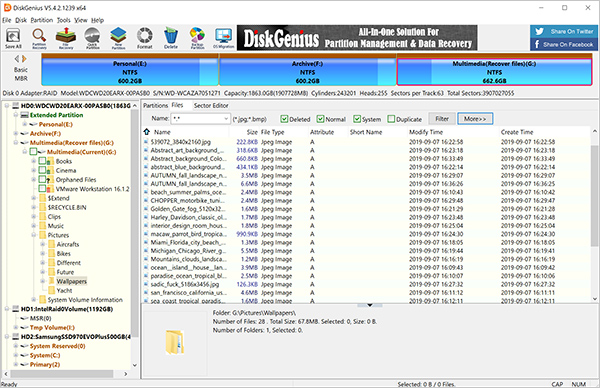 The major pros of using DiskGenius are the following:
Portable version. The last of the alternatives to Recuva from this list also has a convenient portable mode. Typically, you are offered to download the standard .exe installer and a .zip file with a compressed version of DiskGenius.
Semi-functional demo. What is good about DiskGenius, is that the free version is not as restricted as Disk Drill. You can still run many recovery procedures, but only small files can be restored.
Versatility. DiskGenius is positioned as an all-in-one tool with data recovery, partition manager, backup and restore, and supporting disk utility functions. It is an advantage for ordinary users, but it may not be a great decision for technicians.
Here's the list of essential cons of DiskGenius:
Only one platform supported. Unlike many other competitors, DiskGenius is only compatible with Windows.
A short range of supported file types. While competitors offer to recover up to 1,000 files, or even any existing ones, DiskGenius can handle only 200 of them.
Purchased editions do not receive premium customer support. Unlike other digital solutions, DiskGenius has the same support team across all the versions. It may lead to low-quality service and frequent delays overall.
Confusing interface. Although DiskGenius is intended for ordinary users, its control panel is significantly complicated. It can be justified by attempting to unite distinct functions in only one versatile application. Still, device owners may have a difficult time trying to run a simple recovery procedure.
Magic Uneraser seems superior to other software solutions this far. Download the trial version of Magic Uneraser for free, or take a closer look at the benefits of the premium edition.
Summary of Characteristics of the Best Recuva Alternatives
Characteristics
Recuva
Magic Uneraser
Disk Drill
Stellar Data Recovery
DiskGenius
Price
$19.95 for the Pro version for 1 year for 1 PC only.
Pricing plans for businesses and technicians are not stated and must be discussed with the support team.
$59.95 for Home Edition.
$199.95 for Office Edition.
$299.95 for Commercial Edition.
$89.00 for the Pro version.
$499.00 for the Enterprise version.
€49.99/€99.00 for the Standard version for 1 year/lifetime license.
€89.99/€149.00 for the Professional version.
€99.99/€199.00 for the Premium version.
$69.90 for the Standard version for personal license for 1 PC.
$99.90 – $699.90 for the Professional version.
Platforms
Windows only.
Windows only.
Windows, Linux, macOS.
Windows, Linux, macOS.
Windows only.
Supported file systems
NTFS, FAT, FAT32, exFAT
NTFS, ReFS, FAT, FAT32, exFAT, APFS, HFS+, Ext2/3/4, XFS, Btrfs, ReiserFS, ZFS, UFS 1/2, HikvisionFS
NTFS, FAT, FAT32, exFAT, APFS, HFS+, Ext3/4
NTFS, FAT, FAT32, exFAT, APFS, HFS+
NTFS, FAT, FAT32, exFAT, Ext2/3/4
Speed
Moderate speed in all the versions.
High speed in all the versions.
High speed in the purchased version. Speed limitations in the basic version.
High speed in all the versions.
High speed in all the versions.
Size
7.3 MB – basic installer that requires an Internet connection to download other files.
55.2 MB – basic installer.
72.9 MB – portable version.
28.9 MB – basic installer.
8.5 Mb – Windows XP/Vista installer.
4.73 MB – basic installer that requires an Internet connection to download other files.
62 MB – basic installer.
32.6 MB – portable version.
Customer support
There is no support for the free version.
Basic support for the Pro version.
Superior support for all the editions, with the opportunity to contact a specific department with a particular question.
The trial version is not supported.
The Pro version is supported.
Enterprise version has priority support.
Basic support for the free version.
Superior support for all the purchased editions.
Basic support for all versions.
If you are a non-technician who needs simple data restoring, Magic Uneraser or Stellar Data Recovery will work fine for you. At the same time, Magic Uneraser, Disk Drill, and DiskGenius suit business owners and technicians the best.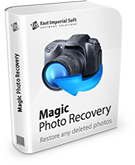 Magic Photo Recovery
Recover all types of images quickly! The program recovers deleted photos from hard drives, memory cards or digital cameras.
Consider Magic Uneraser as an Alternative to Recuva
If you are still unsure about what software to consider, East Imperial Soft company is pleased to offer you Magic Uneraser as an optimal data recovery solution.
We put much effort into the development of our digital products. So you can always have the most affordable, convenient, and practical software on the market employed.
You can learn more about Magic Uneraser software solutions from our official webpage.
If Magic Uneraser is not selective enough for your purposes, we have a range of products that will address your urgent need for data safety better than other Recuva alternatives.
Magic Partition Recovery. This is a highly effective utility for repairing inaccessible disks and formatted solid-state storage media.
Magic Photo Recovery. This software is specifically intended to recover digital images and camera RAW files from all mediums. It can also repair formatted cameras' memory cards.
Magic RAID Recovery. Supporting many types of corrupted arrays, our software can recover data from attached storage devices and NAS servers.
And many more.
Regardless of whether you need professional and highly effective FAT recovery software or just a simple and quick tool to recover corrupted data, Magic products from East Imperial Soft have got you covered.
Contact our support team to ask any questions, or download a trial version of our data recovery software for free.
FAQ
Yes, you are highly advised to try other tools as there are many programs better than Recuva, like the ones on our list.

Even if developers enable you to conduct some basic recovery procedures, you still should have a purchased edition to be confident in your digital tool, regardless of the urgency.

Depending on the features that a particular software offers in each of its editions, you are recommended to choose a pricing plan that covers most of your potential needs.